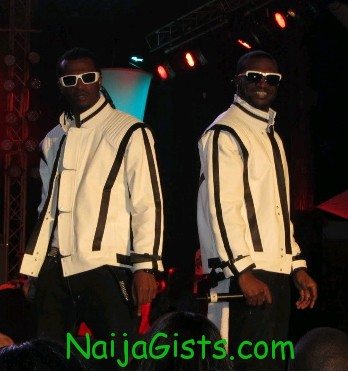 May 17, 2012 – Cameroonian Artistes Vow To Protest Against P-Square
Few Some Cameroonian musicians have concluded plans to stage a protest at a concert P-Square would be performing in Cameroon tomorrow.
According to buzz, members of Syndicat Camerounais De Musicien (SYCAMU), a body of the country's artistes, are protesting against the huge amount of performance fees paid foreign artistes who perform in Cameroon while they (local artistes) get peanuts as performance fees.
Their grievances is mainly against MTN, which organises most of the big concerts in Cameroon.


According to the e-mail, the artistes' body, through its president, Romeo Dika want a change in the way its members are treated by show organisers.
They claim that MTN pays about 200 or 300 million CFA to foreign artistes while about 30 to 50 million CFA is paid to local Cameroonian artistes.
They have now concluded plans and strategies to stage a protest on May 18th when P-Square would be performing at a concert in the country.
We hope adequate security arrangements will be made to scatter them!