Gbenga Adebambo
Canadian Doctors Protest Their Own Pay Raise While Nigerian Lawmakers Defend Theirs!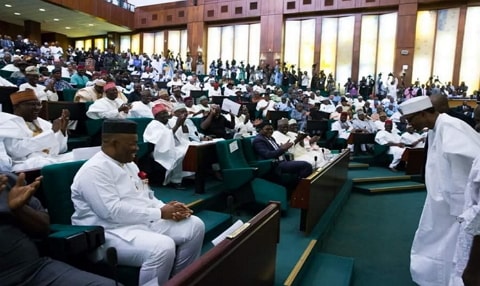 By Gbenga Adebambo
"The world has enough for everyone's need, but not enough for everyone's greed"- Mahatma Gandhi
Wonders they say will never end! About two weeks ago, a story about a group of Quebec doctors in Canada rejecting a proposed pay raise garnered international attention and wowed the international community. Around the same time a Nigerian Senator, Shehu Sani, revealed that the monthly allowance of a Nigerian senator gross around N13.8 million. Apart from the monthly package, each Senator is given the opportunity to execute constituency projects to the tune of N200 million per annum. However, the disclosure made by Senator Sani does not cover the allowances for cars, housing, wardrobe, furniture etc running to several millions of Naira approved for each Senator. With this recent revelation, it is now firmly ascertained than a Nigerian Senator receives 767 times the basic minimum wage (N18000) of an average civil servant in a month!
Nearly 700 physicians, signed a petition demanding the cancellation of pay raises for Quebec physicians. The Canadian doctors protested that they're being paid too much (yes, too much)! The physicians' group said it could not in good conscience accept pay raises when working conditions remained difficult for others.
The petition letter reads: "We, Quebec doctors who believe in a strong public system, oppose the recent salary increases negotiated by our medical federations. We are asking that the salary increases granted to physicians be canceled and that the resources of the system be better distributed for the good of the health care workers and to provide health services worthy to the people of Quebec." The group say they are offended and shocked that they would receive raises when nurses, clerks and other professionals are struggling and facing very difficult working conditions. They felt appalled by lack of access to required services by patients and the nagging disinterest of the government in the total well-being of other professionals.
Bizarrely, this petition didn't originate from the general populace but among the physicians themselves! The news, naturally, elicited plenty of positive responses: The Washington Post called the move "utterly Canadian;" a CNN contributor was even more forthright, writing, "God bless these doctors in Canada." It is both a noble and selfless act.
It's poignant to know that these Canadian doctors actually deserve the pay rise. In Canada, it is worth remembering that physicians often spend more than a decade on post-secondary education while accruing an average debt of nearly $100,000. Once licensed, they are categorized as independent contractors and are therefore not eligible for the same pensions and benefits — drug coverage and maternity leave — as other public employees.
If the doctors could term their own pay increase as "indecent", then I wonder what kind of description that could be used for the unsustainable allowances for our legislators? I want to categorically say that I am openly ashamed of our reward system in Nigeria! Through our lopsided reward system, we have perpetuated decadence and eulogized impunity. We are a nation of victims! Victims of a poor reward system.
Nigerian legislators have over time been associated with jumbo pay, surreptitious allowances and 'scandalous constituency fraud' repackaged and re-named constituency allowances. Can we justify the constituency allowance collected by the Nigerian lawmakers? Something is definitely wrong with our reward system. I have observed that if the nations of the world will rise due to collective and voluntary sacrifice from the citizenry, then Nigeria should be counted out! Our system is plagued by selfish politicians who would rather prefer to milk the nation dry than have any part of their allowances negotiated for the benefit of the populace. It is no news that Nigeria has the highest paid legislature in the world!
It is pitiable to note that the Nigerian constitution even stipulates that they shall be entitled to sit for 181 days out of 365 days. Literally, according to work ethics, they should be on part-time more or less. Tactically, an average Nigerian lawmaker sits for two weeks, then go on recess! Imagine paying a Nigerian senator a lump sum of N13.8 million just for two weeks! The legislators are meant to defend the dividend of democracy but it seems the opposite is what is presently happening.
Over the years we have experienced draconian cut in our budget for education, health and other areas that are pertinent to national development but never to the bogus amount allocated to the National Assembly. Until our elected officials prove that they will invest taxpayer money wisely and demonstrate robust returns on their bogus allowances, then they should take a selfless cue from the Canadian doctors and initiate a petition for a cut in their salaries and allowances. At least the Canadian physicians are saving lives, what meaningful impact is being made by our national legislators? It's either they are re-ordering election time table to favour themselves, projecting bills for their own immunity, overriding executive veto or padding the budget for their benefit.
I have initiate a petition hashtag on twitter called #CutDownLegislatorsBogusAllowances. I want Nigerians to join this campaign against impunity in the hallowed chambers. We will need selfless tradeoffs to rescue our beleaguered nation. In 2012, the Senegal government made a very tough decision to save the lives of many citizens ravaged by flood and left homeless by scrapping the country's upper legislative arm, in order to generate money for flood prevention programmes, as the West African country struggles to deal with thousands of people left homeless after it was beset with torrential rainfall.
On September 12,2012, members of the Senegalese Parliament had voted overwhelmingly to scrap the country's considerably new bicameral system of government and return to a unicameral chamber. Consequently, the 13 year-old on-off bicameral system was scrapped, bringing the political careers of 100 senators to a halt! The Congress also abolished the post of vice-president with the full backing of President Macky Sall. Imagine a country scrapping its Senate in order to save money and help flood victims!
Time and space will not allow me to dwell much on countries that curtailed scandalous 'spendings' by restructuring their legislative arms. In 2013, the Egyptian upper legislative arm was abolished. The 33-year-old Shura Council (the upper legislative arm) was dissolved to conserve the national reserve. The proposal was welcomed by a wide array of political figures who argued that the body is toothless and has squandered state funds. Several other countries like  Croatia (2001), Denmark (1953), Egypt (2013), Greece (1935), Hungary, South Korea (1960), Peru (1992), Portugal (1926), Sweden (1970), Turkey (1980), Venezuela (1999) and Mauritania (2017) once possessed upper houses but abolished them to adopt a sustainable unicameral system.
If the national assembly is standing for the masses, then they must review their bogus allowances. The issue of multiple pensions for the lawmakers must also be looked into. Lawmakers at the State House of Assembly should take a cue from Kwara and Kano State House of Assembly in amending the state law that provided pension and gratuity for former governors and deputy governors presently holding political offices. The amendment of the law will reduce unnecessary spending of public funds through payment to former governors and deputy governors, who are also holding political offices after their tenures. We must find ways to reduce stifling overspending of public funds in order to enable states execute projects that are of benefits to the general public.
So many people are in politics not because they want to proffer solutions to the system, but because it has been designed to reward redundancy. It is highly degrading when some of our 'exalted' political office holders are feeding selfishly on the national cake while the masses are languishing in poverty. They must stop the unholy philandering of constituency allowances. We cannot afford to continue to be silent when there is impunity in high places. We need radical act of selflessness and nobility in Nigeria at this 'perilous' times.
The Revenue Mobilisation, Allocation and Fiscal Commission, RMAFC that is saddled with the responsibility of making provision for the salaries and allowances of political office holders in executive and legislative offices must look into this fiscal anomaly. In the United Kingdom, there is what is called Independent Parliamentary Standard Authority, they fix the salary of every legislator in the UK, so if you are a legislator in London or a legislator in Sunderland, your salaries are different, your constituency allowances are also different. Constituency allowance is a reflection of the average payout within the place you represent. RMAFC must stand up to their task and act as a fair umpire in fixing the salaries and allowances of political office holders.
We need a vibrant rewarding system because there is something institutionally wrong with our reward system. The best systems reward ideas, novel initiatives and problem-solving. As a fall-out of our poor reward and value system, our leaders have become agents of mass corruption. Corruption has rendered our structural institutions impotent. I believe strongly that if we make necessary adjustment in our reward system, and re-prioritize our values, corruption will die automatically. If anything is going to work in Nigeria, we must re-design a reward system that rewards honest, patriotic, diligent, hardworking, and problem-solving individuals.
Nigeria's democracy is surely one of the most expensive to run. The jumbo allowance of Nigerian legislators is obviously unsustainable, profligate and wasteful. For us to minimize our capacity for extravagant spending we need to start from the top; we need to regulate spending in 'high places'; the hallowed chamber of the National Assembly for a start. Our leaders and political office holders must show the example for productive and disciplined spending styles. We must stop wasteful salaries and allowances in high places. Until we imbibe the culture of frugal spending, our national growth will continue to be decimated.
QUOTE OF THE WEEK: "Extravagant living is not a reflection of affluence but of ignorance"-Gbenga Adebambo