Information Desk
Canadian Visa Processing Time For Nigerian Applicants Reduced To 10 Days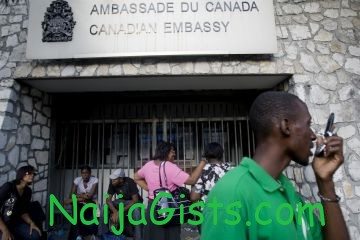 Dec 28, 2012 – Canadian Visa Processing Time For Nigerian Applicants Reduced To 10 Days
In a bid to strengthen bi- lateral relationship with Nigeria, the Canadian High Commission has reduced the waiting period for visa applicants from 60 days to 10 days. A source at the High Commission told said on Thursday in Abuja that the country was now opening up and accommodating more visitors and travellers from across the globe.
"Because of this, a lot of Nigerians are sending their children to study in Canada and this has led to a backlog in the number of visa applications.  This informed the mission's decision to reduce the waiting period from 60 days to 10 days,'' the source added.
Diplomatic sources said on Thursday that the Canadian government took the decision following persistent complaints by the Minister of Foreign Affairs, Amb. Olugbenga Ashiru and the leadership of the National Assembly.
Ashiru, at various meetings with Heads of Diplomatic missions assured them of the readiness of Nigeria's diplomatic missions to undertake reciprocal treatment in the issuance of visas.
"Where visas are delivered promptly within three to five days, we shall reciprocate and where there is delay, we shall apply the same measure,'' he told them.
[DAILY TIMES]