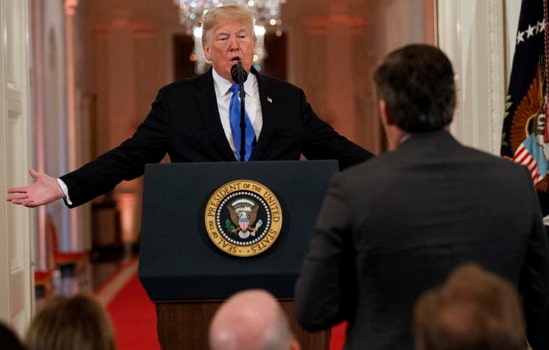 White House Suspends Press Access For CNN's Jim Acosta After Trump Confrontation
CNN Reporter Jim Acosta Denied Access To White House After Trump Verbally Abused Him
Have you watched the viral confrontation video of CNN reporter Jim Acosta and President Donald Trump?. If not, watch it below.
The professional reporter who has years of experience working for CNN asked Donald Trump some questions when the controversial President boiled up because he was asking too many questions.
At a point Trump bullied the reporter by calling him a rude and a terrible person that should not be working for CNN.
Oh Gosh!!! This president needs a form of public speaking training.
Can you imagine his unkind response to the reporter.
This Oga should not seek re-election abeg.
No wonder he is named the most controversial President in America's history.
Here is Mr Acosta's response to the verbal attack.
"It was a pretty surreal experience. "I never thought in this country that I wouldn't be able to go and cover the President of the United States simply because I was trying to ask him a question."
It is safe to state that Mr Trump does not have the temperament needed to be a good President. It funny how he managed to stay in office this long.