Nollywood
Crazy People Nollywood Movie Review: Critic Rates Moses Inwang New Movie 4 Out Of 10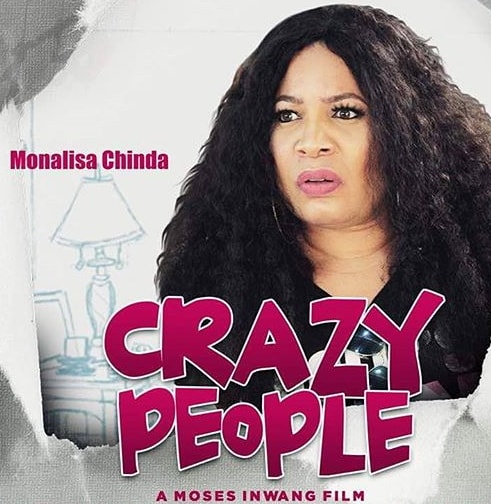 By Esosa Omoh Usoh,
The movie was in one instance billed as a "comedy-thriller" and in another instance as a "psychological comic thriller". Reported to have cost N100m to produce, Writer/Director, Moses Inwang effused about his movie "The film is in a class of its own as it is the first Nollywood film that has real life actors playing themselves as movie characters. Crazy People is guaranteed to blow your minds".
Torn between gladly seeing Deadpool 2 a third time and reluctantly seeing Solo: A Star Wars Story (I am more of a Star Trek than Star Wars fan), my regular movie companion suggested we see Crazy People for a change. Having been unimpressed by several viewings of its trailer, I went in with no expectations of being blown away.
The thing that struck me first as the movie started was the impressive cinematography and audio. Its opening scene had the feel of a proper cinema movie rather than the feel of a Nollywood cable channel feature projected onto a big screen with a grating audio that makes you reach instinctively for your ears.
But as the movie progressed and the storyline unfolded, it started to descend into the familiar territory of your typical Nollywood fare. From the storyline, we are made to understand that Nollywood Actor, Ramsey Nouah (playing himself) is the victim of identity theft. Apparently, an impersonator who was "impersonating his person" while he was on a one year or one and half year hiatus had been getting his movie roles and endorsement deals from "multi-nationals".
Now back from his hiatus, Ramsey, in the company of his new manager, Lucinda (Chioma "Chigul" Omerua), calls a press conference to address the identity theft and call out the impersonator. But all the press conference achieved really is question both the Director's understanding of the concept of blowing a viewer's mind and the movie's reported N100m production budget.
For a movie that the Director announced as being "in a class of its own", the farce of a press conference put it in a class full of countless Nollywood productions that continually bungle convincing portrayals of real life scenarios. As is the trope in Nollywood where stereotype portrayals will have a pair of stethoscope around the neck signify a character as a doctor and a stick across the shoulder of an idiot character signify him as a mai guard, a handful of clueless-looking people wielding audio recording devices and almost sticking it into the mouth of another character signifies journalists at a press conference.
At this point, it would seem the movie had forgotten the thriller bit of its billing as it carried on with rather unimpressive affectations of comedy made even more unimpressive by pointless and unfunny gags.
The contrived cameos by celebrity photographer, Kelechi Amadi-Obi and Actor/Model, Bryan Okwara, was as useful in advancing the storyline as Ramsey's assonated assault line to Okwara ("you shot the shoot?") was to creating an engaging dialog. Cameos by actress, Monalisa Chinda and director, Kunle Afolayan fared no better as you are left as dumbfounded as the look on Afolayan's face.
But it was not all a tale of woes as in its second half, the movie brought on a twist that while it does not quite redeem the failings of its first half, should at least earn it some accolades solely on the shock value rather than its treatment thereof. The twist indeed threw me for a loop as it even flipped my speculation (early on in the movie) of what the eventual twist would end up being.
Sadly, the redemptive points the twist afforded the movie were quickly dissipated by the needlessly prolonged resolution scenes of the 2nd half of the movie. This is where, in my view, the Director betrayed a lack of appreciation of how to use the resolution technique in a movie twist to achieve maximum impact without depleting the shock value of the twist.
The twist and its shock value could have been better enhanced with a rapid replay of some key scenes from the movie's first half rather than the full-on resolution/explanatory scenes that almost made the resolution bit of the 2nd half seem like a feature-length movie on its own.
Better still, the replay of those key scenes could have come mid or post the end-credits a la Marvel releases.
And Ireti Doyle's voiceover of the resolution scenes came across more as her reading from the script rather than explaining as it should have been portrayed given that she was explaining it to the other cast members.
All said and done, Crazy People took a brilliant story concept and dissipated its impact with a less than brilliant portrayal of it. While it does not blow your mind as promised by its director, it gets an A for originality of concept but a low C for result. 4/10