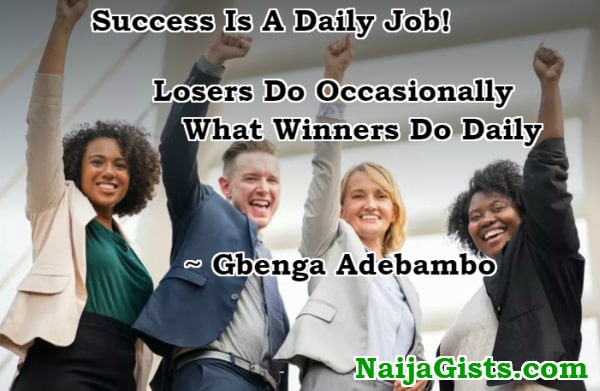 SUCCESS IS NEVER OWNED, IT'S RENTED, AND THE RENT IS DUE EVERYDAY
Success Is A Daily Job! Losers Do Occasionally What Winners Do Daily ~ Gbenga Adebambo
Your Future Is Hidden In Your Daily Routine… Are You Paying Your Daily Rent For Success?
"It's not what we do once in a while that shapes our lives, but what we do consistently"- Tony Robbins
No one likes to fail. There is not one person who does not want to succeed, but the pertinent question is this: Are we ready to pay the daily price for success?  Success is not something ready-made. It comes from your own daily actions. Success isn't given; it is earned through daily and consistent inputs.
Success is a daily job! Losers do occasionally what winners do daily.
Paula White once said, "Your future is found in your daily routine. Successful people do daily what others do occasionally".
Many years ago I learnt a powerful principle and ideology from Rory Vaden, best-selling author and world-renowned strategist on success through self-discipline.
It's called The Rent Axiom, which states that "Success is never owned. It is only rented, and the rent is due every day."
Vaden says that to fully ingrain this principle. Simply replace the word success with whatever is important to you.
For example:
Financial security is never owned. It is only rented— and the rent is due everyday.
Physical health is never owned. It is only rented— and the rent is due everyday.
A great business is never owned. It is only rented— and the rent is due everyday.
A happy marriage is never owned. It is only rented— and the rent is due everyday.
A great relationship is never owned. It is only rented— and the rent is due everyday.
Creative inspiration is never owned. It is only rented — and the rent is due everyday.
Vaden made us realize that success is simply a product of day-in-day-out application of habits and disciplined actions. Take a good look at where you are falling short in life. Chances are you're probably a little behind in the rent.
Aristotle once said, "We are what we repeatedly do. Excellence, then, is not an act, but a habit".
In the Ancient Greek mythology, the story was told of how everything is achievable through consistent daily routine. There was a boy who wished to be strong when he grew up, so strong that he would be able to lift a fully-grown bull.
In order to realize his ambition, he started to train by lifting a bull calf daily from the day that it was born. Each day, he would lift the calf into his shoulders and carry it on the same defined circuit. As the bull calf grew, so also did his strength, until the day arrived when the bull was fully-grown and the boy had become a man.
The man lifted the bull unto his shoulders and carried it around the circuit as he had previously every day.
The spectators were fully amazed at his strength but not the man or the bull.To them it was a daily routine, and it had become a part of them! That is the power of daily routines; it makes herculean tasks look casual.
One of the mysteries of life is the unique power in the compounding effect of daily actions. There is power in this compounding effect, the build up of little actions over time to create significant and noticeable results.
If you really want to know the reason why some people succeed and others don't, you need not look far-the secret is in their daily routines.
Success is the sum of small efforts, repeated day in and day out.
Your future is hidden in your daily routine. I have often told people that they don't need to consult an oracle or see a soothsayer to predict their future.
To predict your future, just take a close look at your daily routines.
You will NEVER change your life until you change something that you do daily.
Your daily routine matters. The way you start your day matters. Your morning rituals matter.
Are you paying your daily rent for success? Success is not free. You must pay your daily rent by investing in:
1) CONTINUOUS IMPROVEMENT
The secret of sustained success is continuous improvement. I have observed that people that are committed to daily improvement ultimately reach their destinations. The greatest hindrance to success is not failure, it is the previous success. We must not allow our previous success to hinder the need for constant improvement. Marshall Goldsmith once said, "What Got You Here Won't Get You There". When you strive every day to become a little better, soon you will be a master at what you do.
2) PERSONAL DEVELOPMENT AND GROWTH
John C. Maxwell said, "There is nothing noble in being superior to someone else; progress is becoming superior to your previous self". One way of paying the price for success is in investing inconsistent personal development and growth. Make personal development and growth a daily affair. Create some non-negotiable daily rituals to develop yourself. We cannot become what we want to be by remaining what we are. Success is not to be pursued; it is to be attracted by the person you become! Let your growth be your personal goal. Abraham Lincoln once said, "You have to do your own growing no matter how tall your grandfather was". Your growth is your responsibility. You have a gold mine when you have a 'growth mind'.
3) DREAM AND PASSION
Henry David Thoreau said, "If one advances confidently in the direction of his dreams, and endeavours to live a life which he has imagined, he will meet with a success unexpected in common hours."Build your own dreams, or someone else will hire you to build theirs. Successful people invest their time and resources daily in their dreams and passion.
4) GIFTS AND TALENTS
Discover your gift as early as possible and invest in it daily; this will always give you an edge in life. The very best way to develop yourself is in the direction of your natural talents and gifts. Leo Bascaglia said, "Your talent is God's gift to you. What you do with it is your gift back to God".
What will showcase you before the world and bring you before important people is your gift. Successful people invest in developing their gifts and talents daily.
Until you discover and nurture your gifts and talents, you will continue to travel in another man's journey. You will only shine in your area of gifting.
Success is never owned! You need to take ownership of your life by taking daily actions that will lead you to the path of destiny fulfillment.
You have to discover the one thing you were created to be, and be willing to pay the price daily to be it.
QUOTE OF THE WEEK: "The best way to predict your future is to create it"- Abraham Lincoln
For more life changing articles by motivational speaker Gbenga Adebambo, visit his column here.