Hot Gists
Dija Is Husband Third Wife..Eric Oluwarotimi Olojugba In 3rd Marriage After 2 Failed Marriages
Nigerian Singer Dija Is Husband's Third Wife: Eric Oluwarotimi Olojugba In 3rd Marriage After 2 Failed Marriages – Insider
Meet Eric Oluwarotimi Olojugba, a 47-year-old man who lived in the United States of America for most part of his adult before relocating to Nigeria.
Sources in the know are now claiming that Mr Rotimi is always hiding his face with sunglasses or hat in order to protect his identity from people that know him.
According to a source, Rotimi was married twice in the United States with children scattered all over the place before he met AfroDija, who he married few years ago.
NaijaGists.com investigation reveals that he has lived in different states of the United States and has done a lot of banking and investment jobs.
He also goes by the name of Olufemi Olojugba and Eric Olojugba.
He worked as an Investment adviser in the United States for a long period of time.
In 2005, he was married to New York-ased Dr Oreoluwa Ojutiku but the marriage later failed.
They used to call them dream couple until the marriage fell apart.
In 1994, he was married to Rita N Anagho, a Nurse Practitioner in Phoenix Arizona at that time.
She is now a psychiatric nurse practitioner in Tennessee.
His third marriage to Dija took place three years ago.
His first two marriages produced 3 children while his marriage to Dija produced 2 children.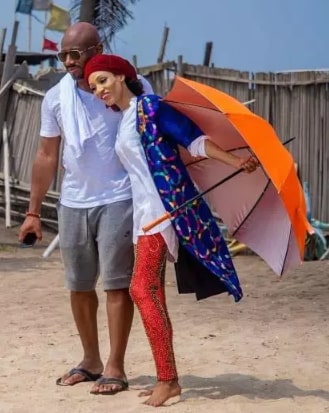 Mr Rotimi Olojugba is indeed an adventurer when it comes to matters of heart.
Hope his marriage to Dija is his final bus stop. **wink**.