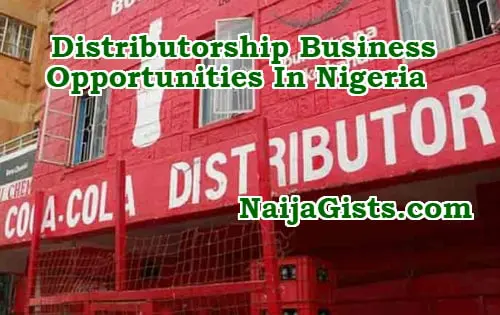 Distributorship Business Opportunities In Nigeria And Full List OF Companies That Need Distributors In Nigeria
Distribution business predates the modern era, as it has been in existence since way back in the stone age. The business, which basically entails movement of goods from production outlets to areas of need, is one of the most lucrative businesses in Nigeria (and the world) today. In this article, we'll be bringing you a comprehensive outline of distributorship business opportunities in Nigeria, to get you adequately informed on the companies that need distributors in Nigeria.
Read Also Becoming A Distributor In Nigeria.
Distribution of goods typically follows 4 stages: From manufacturer > wholesaler > retailer > consumer. This trend shows that all businesses/manufacturers need distributors to help get their goods to the their respective target markets, which are the final consumers.
In light of this, producers/manufacturers are always on the look out for distributors to hire, either on contract or full time basis.
Untapped Businesses in Nigeria
Nigeria is filled with business opportunities; however, most of these opportunities remain unexplored. For instance, up until about one and half decades ago, distribution business in Nigeria was largely viewed as a relatively unproductive business venture. However, with the gradual shift in perception over this period, distribution business is, today, a gold mine for the big players in the industry.
Despite the surge of distributorship in Nigeria, it is still largely under exploited, and still seen by many as a mundane or rather, unconventional business. Unfortunately, however, while the ignorant wallow in their ignorance, the smart ones are cashing out big from this business.
The idea is simple, with the mammoth population of Nigeria, people constantly demand consumer goods, and as far as this demand exists, distribution business will continue to thrive. In other words, you can hardly go out of job as a distributor.
Essentially, to explore and tap from the distribution business in Nigeria, simply find yourself a suitable product and supplier (manufacturer or wholesaler). And more importantly, ensure you have a direct channel to your target market.
FMCG Distributorship Opportunities in Nigeria
FMCG, which is an acronym for Fast Moving Consumer Goods, is arguably the most important term in this discuss. It basically entails movement (distribution) of consumer goods, to make them available/accessible to those in need.
Manufacturers of consumer products like Bournvita, Milo, Chivita (and other beverage products), Semovita, CloseUp, Indomie, and so on, are basically classified as FMCG companies. These companies have thousands of distributors, whose primary responsibility is to move goods to places of need. Interestingly, most FMCG companies are always on the look out for new distributors, with the aim of exploring new markets and further penetrating their target base.
Notable companies with interest in FMCG include Nestlé, P & G, Dangote, Unilever and many more. These companies offer FMCG distributorship opportunities to prospects. To get enlisted as a distributor, you can visit the companies' branch offices, depots or plants/factories closest to you. However, you'll be required to pay a certain amount of money, depending on the scale of goods you are willing to start with. Basically, you'ld need a minimum of 200,000 Naira to kickstart your FMCG distributorship business.
Furthermore, if you have interest in distributing multiple FMCG goods, your best bet is Unilever Nigeria PLC, which is one of the biggest FMCG companies in the country and the world at large.
Beer Distribution Business in Nigeria
Nigeria is ranked among the top consumers of beer in Africa, draining billions of litres of beer per day. And the various beer producing firms like Guinness, Gulder, Star, Heineken Trophy and Hero among others regularly seek out distributors to help jack up their sales.
Beer distributorship business has employed millions of people in Nigeria, directly and indirectly. And the largest beneficiaries are the retailers, who operate bars and drink outlets. Distribution of beer from plants to bars and clubs in every nook and cranny of Nigeria is a big task, which cannot be handled by the producing firms alone. Hence, the role of beer distributors cannot be overemphasized.
As a prospective beer distributor in Nigeria, acquiring a vehicle (on lease or hire purchase) is not compulsory, but highly essential. And depending on your location, your success in this business would depend significantly on your ability to deliver goods to consumers in due time.
Starting a beer distribution business, like other distribution businesses, requires startup capital. For small scale distribution, you would need between 200,000 and 500,000 Naira. And for large scale distribution, you would be looking to at millions of Naira, barring other supplementary costs.
Indomie Distributorship Business In Nigeria
Today, indomie, which is the colloquial term for all noodles in Nigeria, is one of the most widely consumed food products in the country. And with respect to its ease of preparation and raw edibility, it is often seen as a fast food and snack respectively.
Indomie is more popular among students and working class individuals, who have little or no time to prepare "real food". This makes Indomie (noodles) one of most demanded food products in Nigeria. And its distribution stands out as one of the most lucrative businesses in the country.
To register as a distributor for Indomie or any other top noodle brand (like Honeywell), you need a sizable amount of money to acquire a warehouse, a van or truck(s) and stock purchase among others. Typically, you might end up spending as much as 10 million Naira (or more).
Prominent noodles brands like Dufil Prima Foods (Indomie) and Honeywell sell their products to distributors in stock, at discount prices. And depending on the binding agreement, you may be required to pay in full or part.
Roundup; it is recommended you reach out to other Indomie noodles distributors in your area. This way, you can get some secret formula, to help you become successful in your new venture.
International Franchise Opportunities in Nigeria
If you are looking to build a new business (distribution) under an established platform, there are numerous franchise opportunities available for you.
Below is a roundup of international franchise opportunities in Nigeria that focus on products distribution:
Interest: Distribution of Auto Parts & Batteries
Contact (Email): info@a-map.net
Contact (Phone): +97142241423
Market: Global
Interest: Stationery & Electronics
Contact (Email): evergrow@evergrow.ae
Market: Global
Interest: Distribution of Beauty Products
Contact (Email): al_kamal@eim.ae
Market: Global
Interest: Car Tyres & Batteries
Contact (Email): Info@zafco.com
Market: Global
The above outlined companies (and many others) are international manufacturing and distribution firms that offer franchise opportunities to distributors in Nigeria.
List of Companies that Need Distributors in Nigeria
Below is a comprehensive list of companies that need distributors in Nigeria:
CHI Limited
Honeywell
Cadbury
Peak Milk
Maggi
Dangote Flour Mills
Nestle
PZ Cuzzons
Dufil Prima Foods (Indomie)
Procter & Gamble (P & G)
AG Leventis
Next International Nigeria LTD
Promasidor
Domino Pizza
OneCard
Coca Cola
SevenUp Bottling Company
And more
Investment Opportunities in Nigeria 2019
Distributorship business is obviously one of the most lucrative investment opportunities in Nigeria today. However, there are other equally lucrative or even better alternatives, if you have no interest in the distribution business.
Below is a list of some profitable investment opportunities in Nigeria, which serve as perfect alternatives to distributorship business.
Media & Entertainment
Stock broking
Poultry & Fish Farming
Bakery – Cake Baking
Commercial Agriculture
Soap Production
Forex
Bitcoin Trading
Fashion Designing
Is this helpful? Kindly share your feedback(s) with us in the comments section below.
For access to timely news and information, follow NaijaGists.com on Facebook and Twitter.