Lucrative Businesses To Start In Nigeria With Small Capital in 2019 And Beyond
This article is a business guide, designed to get you enlightened on the various lucrative businesses to start in Nigeria with small capital. And we'll also be guiding you through the start-up process of every outlined business.
With the economic situation on ground in Nigeria, which is at its lowest, most Nigerian youths, especially graduates, are unemployed or at best, underemployed. In light of this, significant attention has been given to entrepreneurship, which is widely seen as the ultimate solution to the spate of unemployment in the country.
However, while there are innumerable lucrative business opportunities in Nigeria, most prospective business owners are being held back due to non-availability of funds or insufficient start-up capital.
Therefore, this article seeks to eliminate this barrier, by outlining some highly lucrative businesses, which you can easily start with small capital in Nigeria.
Lucrative Businesses to Start in Nigeria with Small Capital in 2019
 Bakery Business
This business is one of the most lucrative small & medium scale businesses in Nigeria. The main product of interest – bread – is probably the fastest selling consumable good in Nigeria. And there's at least one bakery in every neighbourhood in the country. Hence, you are guaranteed a moderate level of returns (sales), irrespective of the location of your bakery.
However, it is important to point out that, bread is not only product of a bakery business. In fact, other areas like cake baking and the likes are somewhat more lucrative than bread baking. Nevertheless, you can produce both products, provided you have the required capital and market.
To set up a bakery, ensure you carry out a feasibility study, to determine the viability of your proposed business, as well as the scale of your target market, including how you can get to them. Also, make sure you draw out a concise business plan.
All things being equal, and depending on your proposed production scale, you can set up a bakery business in Nigeria with as low as 200,000 Naira. This is basically the cost of acquiring an oven, flour and other relevant materials/equipment.
Transport Services
With the emergence of Uber and Taxify, you don't need to be a "Peace Motors" or "GIGM" to run a successful transport business. Once you have a vehicle, you are good to go. All you need to do is to register with one of the global transport service providers, preferably Uber or Taxify.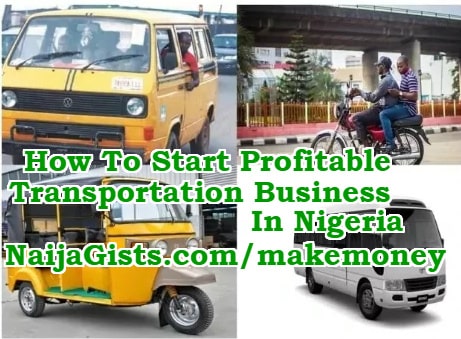 An average Uber driver in a city like Lagos earns up to 30,000 Naira per day, while spending in the range of 8000 Naira to 15,000 Naira on fuel and other miscellaneous.
Also, you can lease out your car to a licensed commercial driver. With this, you get a daily or weekly commission on their earnings.
Blogging
Blogging is arguably the most popular online business in the world today. While there are millions of blogs on the internet, only a tiny fraction earns substantive sum of money from it.
Turning your blog into a lucrative business venture doesn't require huge capital. However, it requires a lot of patience, perseverance, time and efforts. And it is also important to bear in mind that only a few privileged bloggers can make it big in the business like Linda Ikeji.
To start a blog, it is recommended you acquire relevant writing skills and/or hire the service of a professional writer(s). The secret to successful blogging is usually down to your capability to publish unique, quality, contents.
Mini Importation & Drop Shipping
Mini importation is rather an unpopular business in Nigeria. It basically involves importing goods in micro quantities (at discount prices) and selling them to buyers (at retail prices). This business requires little capital to start up, and even if you have a war chest of capital, it is highly recommended to start small.
More often than not, all you need is an internet-enabled mobile device or computer system, as well as an online payment service like PayPal, Payoneer and the likes. Aside these, you also need a token to start up a mini importation and/or drop shipping business.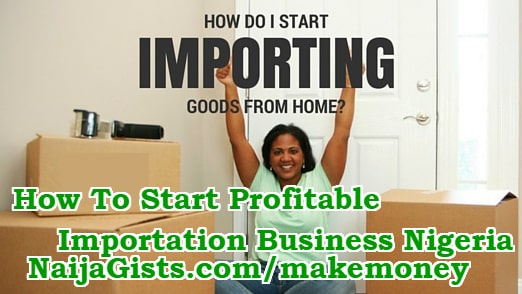 You can import products like shoes, towels, watches, clothes and so on in small quantity. With time, when you've built a sizable client base, you can start importing in larger quantities.
However, this business is widely being used as a smokescreen (by scammers) to perpetrate fraudulent activities. Hence, watch your step, and be mindful of who you do business with.
Depending the type of products you have interest in, starting up a mini importation or drop shipping business could cost you as low as 20,000 Naira.
To get you going, you can sign up on AliExpress, which is one of the largest drop shipping platforms in the world.
Car Washing/Cleaning
Do you know that most car wash business owners are actually richer than their clients? Don't be surprised, that is actually the reality! On average, a car wash business outlet cleans about 50 cars (or more) in a day, earning between 150,000 to 200,000 Naira in the process.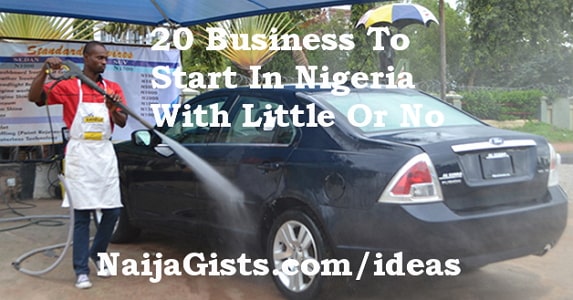 The two main factors to consider in setting up a car wash business are water supply and "washing centre". Depending on the location of your washing centre, the former (water supply) can be overlooked. That is, if you have a steady supply of pipe borne or borehole water in the area, you don't need to spend big on water supply; otherwise, water supply is the most important factor.
Most car wash businesses prefer to have reliable means of water supply, and the best way to get this (in Nigeria) is to construct a borehole, which costs an average of 300,000 Naira.
Overall, you can start up a car wash business with as low as 200,000 Naira (more or less).
Restaurant or Small Chops Business
This is one business that can never go extinct. As long as man needs food, restaurant business will be ever-present! Most people, especially working class individuals have little time to prepare food for themselves, and most times, they have no choice but to get their food from vendors. Hence, with the required culinary skill, you can offer your service to the needy.
A restaurant, as a term, might look too polish for a small chops setup. Hence, you can start as a small chops or fast food outlet. And, with proper management, you can steadily grow your small setup into a restaurant.
Depending on your location, you can start a small chops/fast food outlet in Nigeria with a capital as low as 50,000 Naira.
Poultry Business
This is one of the most lucrative areas of Agriculture. According to recent findings, Nigeria produces less than a quarter of the poultry needs (meat and egg) of Nigerians. And despite millions of tons of imported poultry products, our poultry need is still largely short of being met. To bridge this gap, a lot more poultry products need to produced.
So, if you have a knack or interest in Agriculture, poultry business is a gold reserve waiting to be mined. And it requires only a small capital to start.
Notable Mentions
The list of lucrative businesses, which you can start with small capital is exhaustive. And we have outlined some of these businesses above.
Listed below is a round up of other notable lucrative businesses to start in Nigeria with small capital:
Digital marketing
Solar panel installation & maintenance
Content creation (article writing)
Website development & design
Home tutoring
Day care
Makeup artistry
Gadget maintenance & repair
Software development
Affiliate marketing
And more.
Final Note
Virtually all prominent businesses in Nigeria today started small. And as a startup, if you are able to manage your business well, and maintain a sustained growth, you will get to where you want to be in no time.
We hope this is helpful.
For more lucrative businesses and ideas in Nigeria with small capital, visit NaijaGists.com Creativity Column.