Crime News
Woman Dies After Ritual Attack By Domestic Worker In Anambra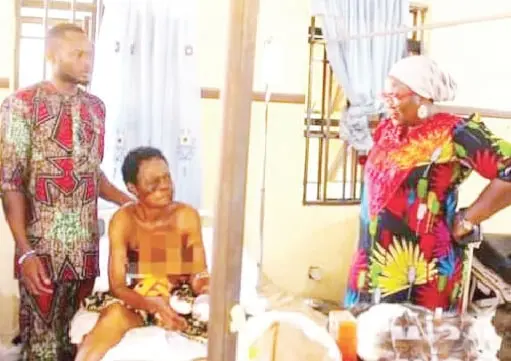 Outrage As Domestic Worker Uses Woman For Rituals In Anambra
Elderly Woman Dies After Brutal Attack by Domestic Worker: Community Demands Justice
A tragic incident has rocked the community of Umunze in the Orumba South Local Government Area of Anambra State, as a 72-year-old woman, Mrs Charity Okoli, who was allegedly raped and had her genitals cut by her domestic worker, Onyebuchi Ezeh, and two other fleeing suspects, has died. The incident, which occurred last week, left the elderly woman with severe injuries, including the cutting of her breasts, finger, tongue and private part for alleged ritual purposes.
Mrs Okoli was rescued by her neighbours and rushed to Chukwuemeka Odumegwu Ojukwu University Teaching Hospital in Amaku Awka, where she was receiving treatment before her untimely death. The prime suspect, Onyebuchi Ezeh, who hails from Abakaliki in Ebonyi State, is currently on the run with his accomplices.
The death of Mrs Okoli has sparked outrage and protests by women from the community who have paralysed commercial and economic activities in the area. The women, who are demanding justice for the deceased, also called for the expulsion of all Abakaliki indigenes from their community.
The incident has highlighted the increasing cases of sexual assault and violence against women in the country. Women's rights groups and activists have called for urgent action to tackle the rising cases of gender-based violence and rape in Nigeria. The government has also been urged to provide more support and resources for victims of sexual assault and to strengthen laws and policies to protect women's rights and safety.
The tragic incident has sent shock waves across the country, with many calling for justice for the late Mrs Okoli and for measures to be put in place to prevent such occurrences in the future. It is hoped that the government and relevant authorities will take urgent action to address the growing issue of gender-based violence and ensure that justice is served for victims and their families.