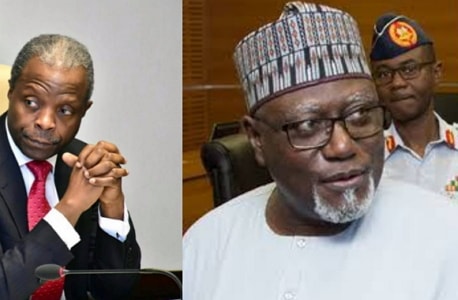 Lawal Daura Sack & Arrest Was Planned To Cover Up NASS Invasion… Nigerians Are Wiser Now 
By Jude Ndukwe
The sack and subsequent arrest of the DG DSS may sound exciting to others but not to me. It is one action meant to cover up the shame of an invasion of our legislature today, an invasion that should never have happened!
Both the sacker and the sacked knew about the script all along.
When such scripts fail, somebody must be used to redeem the executive, albeit dramatically.
Don't be surprised if Daura is restored as DG DSS on Buhari's return to the country "after a careful review of the events that led to his earlier sack. All those involved in the illegal invasion of the national assembly without the EXPRESS permission of the DG DSS have been rounded up and are facing orderly room trial after which they shall be charged to court".
Case closed!
As usual, Nigerians move on and nothing happens!
We are wiser now! Let's not be carried away by such drama. Is it the IG of Police that has not finished obeying Buhari that will obey Osinbajo, and against Daura? I doubt it so much. Daura is only offering himself as a sacrifice to save Buhari's face in all this imbroglio. After redeeming Buhari, it would soon be his turn to be reddened after the whole drama would have died down.
Let's all remain vigilant!
[Jude Ndukwe writes from Lagos]