Abuja News
Videos: New DSS DG, Barrister Matthew Seiyefa Meets Osinbajo As Sacked DG Lawal Daura Official Vehicle Leaves Aso Rock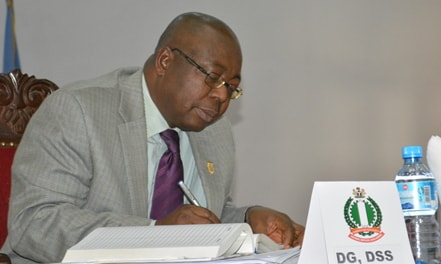 Videos: New DSS DG, Barrister Matthew Seiyefa Meet Osinbajo As Sacked DG Lawal Daura Official Vehicle Leaves Aso Rock
The man appointed to take over Lawal Daura job is Matthew Seiyefa, a lawyer from Bayelsa state.
For now he is the acting Director General of the Department of State Security Services.
He met acting President Osinbajo briefly this afternoon.
Here are some videos shot by Daily Trust reporters in Aso Rock this afternoon
This is Barrister Matthew Seiyefa leaving Aso Rock after meeting Osinbajo
The moment sacked Lawal Daura's official vehicle left Aso rock without him.
Lawal Daura was arrested today for allegedly leaking classified secrets to the PDP party.