Crime News
EFCC Places Fayose On Surveillance To Prevent Escape Plan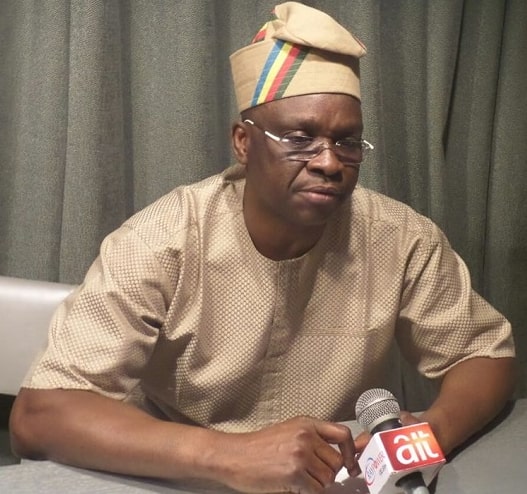 EFCC Places Fayose On Surveillance To Prevent Escape Bid As Governor Is Set To Face Trial In Ado Ekiti, Ibadan, Lagos & Akure
EFCC, Economic and Financial Crimes Commission operatives are already trailing Ekiti State Governor Ayodele Fayose to prevent his alleged escape bid.

Barely 24 hours to Fayose's exit, the anti-graft agency's operatives were yesterday at Akure airport, when the governor and his wife boarded a flight to Abuja.

Another set of operatives closed up on the governor immediately he landed at the Nnamdi Azikiwe International Airport, Abuja.

The governor was also placed on surveillance as at the time of filing this report.

Already, three probe teams have been raised by EFCC on the issues against the governor, including a group on his pending trial, a panel on N4.685 billion National Security Adviser (ONSA) fraud; and the last team is working on alleged infractions during his second term in office.

According to findings, the EFCC may meet with the incoming governor, Dr. Kayode Fayemi, on some records, which the Ekiti State Government had withheld over the years.
But from preliminary findings, Fayose is likely to face trial in Ado-Ekiti, Ibadan, Lagos and Akure.
A top source in EFCC, who spoke in confidence, said:
"We have mounted surveillance on Fayose in the last 72 hours and we are trailing him in order to keep his words to appear before our teams of investigators.

"We have tracked his movement from Akure Airport to Abuja, where he came to attend a send-forth dinner. We will keep tab on him until he reports to EFCC on October 16. Otherwise, we will effect his arrest.

"There are three teams handling the allegations against the governor. There is a special team managing his suspended trial because he had immunity as a governor. We will resume his trial.

"Another team of detectives is in charge of N4.685 billion fraud in the Office of National Security Adviser( ONSA) in which Fayose was implicated. All we need to do is to take the statement of Fayose and arraign him in court.

"The third team takes charge of alleged infractions he committed in office during his second term. The Ekiti State Government has withheld some vital records in the last three years. We will meet with the incoming governor on these documents.

"The governor may face trial in some courts in Ado Ekiti, Ibadan, Lagos and Akure. If he comes around, he will be our first guest at the new EFCC complex."
In his September 10, 2018 letter, Fayose said he was prepared to appear for interrogation on October 16.
The letter said:
"Several and serial actions of your commission for some time now, including but not limited to freezing of my accounts and attempts to secure temporary forfeiture of my properties, are indicative of the commission's desire to have me clarify some issues or answer some questions but for the immunity that I enjoy under Section 308 of the 1999 Constitution as sitting governor of Ekiti State.

"I wish to inform you that my term of office pursuant to which I enjoy immunity against investigation and prosecution under the above provision shall lapse by effusion of time on Monday, October 15, 2018.

"As a responsible citizen of our great country, who believes in the rule of law, I wish to inform you of my decision to make myself available in your office on Tuesday, 16th October, 2018 at 1pm to clarify issues or answer questions on issues within my knowledge.

"Kindly confirm the suitability of the above date or indicate by return, the commission's convenient date."
Although the EFCC's September 13 letter to Fayose, written by the Director of Operations, Umar Mohammed, asked him to report on September 20, he stuck to the October 16 date.