Ekiti State News
Fayose Cries As He Vacates Ekiti State Government House For Kayode Fayemi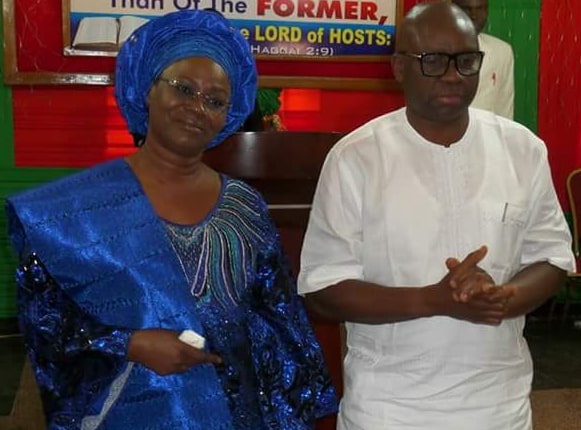 Fayose Cries As He Vacates Ekiti State Government House For Kayode Fayemi
Ekiti Governor Ayo Fayose on Sunday  bade a tearful farewell to the people after a thanksgiving service at the Government House Chapel in Ado Ekiti, the statecapital.

The thanksgiving service was shunned by many politicians, who similarly boycotted Friday night's farewell dinner. The governor's tenure ends tomorrow when governor-elect Kayode Fayemi will take office.

The departing governor could not control his emotion as he made to depart for Akure Airport to catch a flight to Abuja.

As the thanksgiving service ended at about 11am, tears welled up in the eyes of the governor as he made his way to his white Lexus Sport Utility Vehicle (SUV).
"Please take heart, please take heart,"said Fayose's wife Feyisetan, who noticed that her husband was shedding tears.
Fayose bade his wife, few aides and other admirers, farewell as his convoy headed for the Akure airport.
Throughout the service, Fayose was in pensive mood, his voice was laden with emotion as he addressed the congregation.
The outgoing governor told the congregation he was leaving the number one seat a fulfilled man.
Fayose said:
"I'm contented, I'm happy and I say thank you. Don't be disparaged, don't worry about me, I will come back. I will rise to the glory of God. I have enjoyed uncommon grace; I will never complain but only thank God."
Turning to former Speaker Kola Oluwawole who was removed by 14 lawmakers on Thursday, Fayose urged him to take his sack in good faith.
He said:
"I don't want you to trouble your mind; there won't be testimonies without battles. Go and concede defeat in the overall interest of Ekiti. You were removed illegally, but let God fight for you."
Mrs. Fayose assured that her husband would come back to Ekiti a triumphant man.
She said:
"We are coming back, I don't know how, but I have 200 percent assurances."
As he left the Government House premises, Fayose displayed a wooden board with the inscription:
"Ekiti Kete, thank you all and good bye."