Crime News
Father Disowns Kids Over Witchcraft, Ties Them Up As Pastor & Stepmother Call Them Witches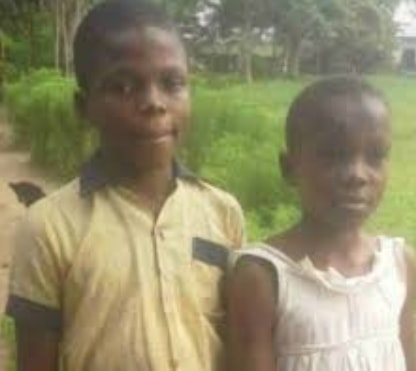 By Oluwatosin Omojuyigbe
Father Disowns Kids Over Witchcraft, Ties Them Up As Pastor & Stepmother Call Them Witches
A confused father simply identified as Johnson, has been accused of chaining and torturing his two children over alleged witchcraft.

Punch Metro learnt that the children, Benjamin and Abasiofong, were tied up in a room by their father after a pastor accused them of witchcraft.

It was gathered that Johnson left the children in the room without food.

A group, Child's Rights and Rehabilitation Network, said when it came to their rescue, Johnson disowned the children and abandoned them to the body.

Director of the group, Sam Itauma, who spoke with Metro, said the CRRN became aware of the kids' plight after an anonymous call, which was acted on.

He added that the father told the members of the group that his action was meant to exorcise the spirit living in the children.
Itauma said;
"Our group got information from an anonymous caller who pleaded with us to rescue the children or otherwise they would die of hunger and torture.

"When we got there, the father did not deny the accusation, he had chained the children in a room for more than six months without adequate food and water.

"Sometimes the children untied themselves when no one was around to look for food because they would be beaten if they ate the food at home.

"The children said they were labelled witches by the pastor of a church in the Atabong area of the state."
Itauma added that the kids' stepmother, identified simply as Udak, took the children to several churches to confirm their witchcraft, adding that the pastors that said the children did not have the spirit of witchcraft were called liars.
He stated that the children, who had been stopped from going to school for almost a year, told the group that their father did not care about them.
He added,
"The father and the stepmother said they were prepared to go to jail instead of taking care of demonic children.

"They signed an undertaken that we should take the children away, that they did not want them again."
Itauma said the group reported the matter to the Eket Police Area Command, adding that the police ignore the matter and refused to apprehend the parent.
The Akwa Ibom State Police Public Relations Officer, Odiko Macdon, said he was not aware of the matter.
"I will make an enquiry and if this is true, rest assured that the full weight of the law will be brought to bear on those culpable after a thorough investigation," he added.
[By Punch NG]