Entertainment News
INEC Officials Give Femi Otedola Daughter DJ Cuppy PVC Card In 10 Minutes As Poor Nigerians Wait In Line For Hours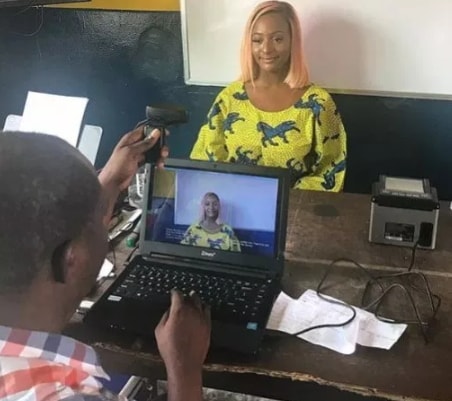 Femi Otedola Daughter DJ Cuppy Collects Her PVC Card Within 10 Minutes As Poor Nigerians Wait In Line For Hours
The issue of corruption in Nigeria may not be going anytime soon no matter the amount of fasting and prayers we put in.
The rich folks in Nigeria are fond of oppressing the poor and this is one of the reasons this menace called corruption will stay with us for years to come until something is done to curb it.
Some patriotic Nigerians who waited in line at INEC center in Lagos yesterday to collect their Permanent Voter's card where shocked to the bone when DJ Cuppy, the daughter of oil billionaire Femi Otedola walked in with her entourage and walked out moments later.
Many who waited in line for over 4 hours didn't get their cards but when the rich man's daughter walked in , she got hers and walked out within minutes.
Here is what one of the aggrieved Nigerians, Ifeoma Chukwuogo who witnessed the drama told her social media friends.
"Y/day I stood for 4.5 hrs trying to get my PVC, got there at 7, left at 11.30. Cuppy strolled in at 10.30 with her entourage and mopol, walked past all of us on the queue and went straight into the thumbprint and registration room. I was standing right outside the door just about to go in when this happened. Now, many of us were VERY frustrated at the whole registration affair.

A man beside me just about to go in had been there since 4am or so. Of course, folks were muttering under their breaths about the unfairness. She's not a diplomat/politician, she's just wealthy. If you don't want to join us like cattle standing for hrs getting harassed by officials, arrange for a private registration at a location of your choice. There's nothing wrong with that. Companies and residential estate arrange for INEC officials to come register their staff/residents for convenience sake. But I'm guessing there was the PR aspect of it too because her handlers photographed it. No crime in that. She's an influencer.

What made me realize how tone-deaf she might be was how despite the obvious frustration from people's facial expressions, and me actually loudly telling an INEC official in her presence that it was unfair to do that at our expense as we all have places to be as well is that she was smiling and chuckling through it all. I was looking straight at her as I was saying these things, not even in a combative manner, more in a "she/you guys should be doing better, leading by example" type stuff.

It was interesting (and annoying) to watch.

They got her sorted and she left."
---
To make matters worst, they named her a social influencer… na wetin she dey influence with her yanga attitude???.
This issue of the rich oppressing the poor is common in Nigeria.
It can only happen in a country like ours… What a shame!!!