Crime News
African Man Finds Love Potion Charm Bottle In Girlfriend's Bag & Paper With Names Of Several Men
Zimbabwean Man Finds Love Potion Charm Bottle In Girlfriend's Handbag & Paper With Names Of Several Men
A lover man in Zimbabwe is still yet to recover from the shock he got when he found a very strange thing in the handbag his girlfriend forgot in his car.
According to iHarare, the 19-year-old girl forgot her handbag in her boyfriend's car after a night party.
Out of curiousity, he reportedly opened up the bag and what she found will shock any man.
He found a bottle with a concoction believed to be a love potion and a white paper with names of several men on it.
He is of the opinion that the men are the people she plans to use the love potion on.
He took to the social media to share his findings with the photo.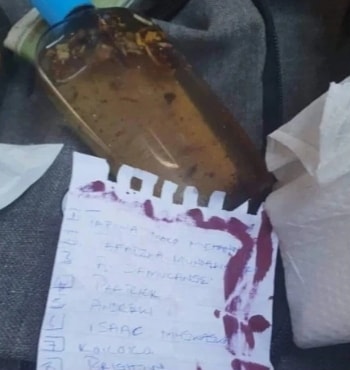 This should serve as a warning to men who mess around with girls.
Many of them are already in a spiritual trap while some are about to be trapped.
And if you don't believe in voodoo, this should open your eyes.
Black magic is real my brothers and sisters. Don't fall victim!!!.