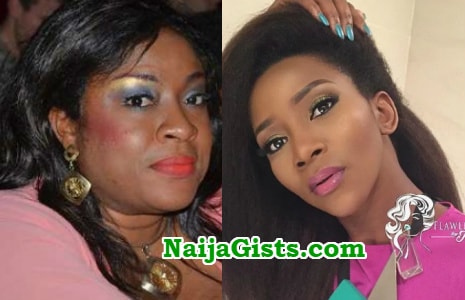 Nollywood actress Foluke Daramola recently granted an interview to Lanre Odukoya. In the interview centered around her age milestone and humanitarian projects, the mother of two talked about colleagues who are no longer relevant in the movie industry and how stardom has time frame.
Enjoy the interesting interview below.
How does it feel to be 40 years old?
It feels great. Nothing has changed, at least not that I know of. I just believe that I should do things more maturely and be calmer about things. Those are my resolution as a 40-year-old woman.
Will your age influence the type of movies you'd agree to feature in?
The only way it will affect my movies is that I have chosen to spend more time on humanity than movies. I started acting at a very tender age, I started show business when I was 13; I started with talk show before I delved into acting. Along the line, I have been reading and the society has been giving to me. Without the society, there won't be the Foluke Daramola we know now, so I believe it is time for me to start giving back to humanity. It won't affect my movies. I think on a scale of 100; I will give 60 per cent to humanity and 40 per cent to acting. I am not going to stop acting or anything.
So we should look out for you doing more of philanthropy?
Yes, by God's grace. It's not like I am not going to be having a party, but the party I am going to be having will tilt towards giving 100 people skills acquisition. We are going to empower between 20 and 50 of them on that day. This is going to be in May because that is when my foundation will be four. I can't have my birthday party in February and another in May. That is why I decided to combine both celebrations.
What influenced the establishment of your foundation?
I have never hidden the fact that I was deflowered by a rapist. The incident affected my growing up even up to the university because I was rigid. The first time I got married, I was abused one way or the other as well. So, that affected my growing up and when I left the marriage, a friend of mine advised me to see a psychiatrist and he told me that if I speak it out, it will heal me.
Also, I had an interview in one of the tabloids and from the interview, some journalists came from France to have a full documentary of me. Lo and behold when I had the interview, the guy asked if I had a foundation and I said no. He asked why and said it is from having a foundation that I will do stuffs and help that next person. That was how I started to do this.
I also discovered that ever since then, I always find one or two persons equally abused, but have been keeping quiet and dying silently inside without speaking. I am one of the first persons that started speaking out and now you find out that people get raped and they speak about it. It's not like they are the ones that inflicted the pains on themselves. What actually prompted my starting my foundation was the fact that I was deflowered by a rapist.
How long have you been running the foundation?
My foundation is going to be four in May.
How have you been raising funds for your foundation?
It has been more of family and friends because we have not been able to access international funds. For me, maybe because of the passion with which I started my foundation; I have been moving on. I started my foundation bearing in mind the fact that I wanted to rescue a lot of people dying silently from the fact that they had been abused in one way or the other.
So, that was my first priority and that was my first action. Now that the awareness is becoming heavier maybe we will start to source for outside funds, but it has been more of family and friends that have been supporting the foundation. It is one thing for you to have an organisation and another for you to have the passion. I think I have been running Passion Against Rape in Africa (PARA), based on the passion I feel for humanity.
You are a mother, an artiste, and now a humanitarian, how do you handle it all?
For me, it is priority and it has to do with passion. If you have passion to do something, you don't expect to get something back. You will create time out of no time for that which you want to do. I was a guest speaker at an event yesterday and I told them that I see show business as a career not a way of life.
Due to this, I can easily take myself away from the show business and bring myself back to my home as a wife and as a mother. At the end of the day, I have not allowed the glitz and glamour to get to my head such that I will say because am a celebrity; I can't take care of my children or because I am a celebrity; I can't cook for my husband or because am a celebrity; there are certain things that I won't do. I just see myself as the girl next door that found herself in show business and is doing what she knows how to do best and combining it with her family.
At 40, what message are you sending to your younger colleagues?
First and foremost, I want them to know that Rome wasn't built in a day; it is not the day you give birth to a child that he starts to walk. A lot of my younger colleagues are so in a hurry to get to the top. They don't understand that it is not about getting to the top, but sustaining the top. So, a lot of them should be able to hold on and understand that life is in stages. The way I have come of age in the industry is even more exciting because most of the time some people will get to the top, but will not be able to sustain their time there.
At the end of the day, they just lose that relevance over time. They should also believe in creativity and diversification, they shouldn't say I just want to be an actress. What else can you do apart from acting? If you are an actress and you don't have a home, you are going to end up in crisis; you have to take a bow when the ovation is loudest where you will fall back to.
You can't always be the star; there will always be another person, another talent. You can't compare the rate at which Genevieve was popular before to now. Before her, there were the likes of Liz Benson, Regina Askia and there will be new stars. So, when your time is up, what are you going back to, what are you going to fall back on? Most importantly, they should work hard, tolerate and be self-righteous and then the sky will be their beginning.