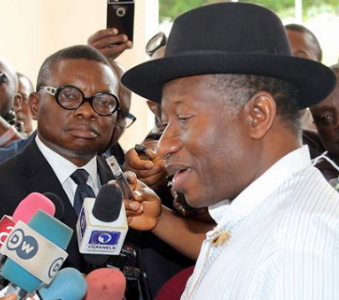 Ghana Slams Jonathan For Mocking Nigeria In Attempt To Cause Tension Between Buhari & Akuffo Addo
Ghanaian authorities are very angry with ex President Goodluck Jonathan for linking President Nana Akuffo-Addo with an alleged mockery of Nigeria.
They have dismissed as untrue claims by Jonathan last weekend in Ado Ekiti that Akuffo-Addo recently mocked the poor state of security in Nigeria and the weak status of the naira.
The former president who spoke at the inauguration of the Ado Ekiti flyover said things have deteriorated so much in the country that it has lost its respect in Africa.
But responding to the statement on Friday, Ghana's High Commissioner in Nigeria, Mr. Rashid Bawa said Jonathan "took the words of President Akufo-Addo completely out of context."
He said:
"Indeed , in the speech delivered by President Akufo-Addo at the Oxford African Conference, one of the instances used by former President Goodluck Jonathan, these are the exact words of President Akufo-Addo:

'For most of you in the audience today, it is probably before your time, but in the late 1970s up to the mid- 1980s, as a result of the discovery of considerable petroleum deposits, Nigeria was booming. It was the place to be. We Ghanaians, who were going through very difficult times then, would arrive at Heathrow Airport, and be herded into a cage to be subjected to the full third degree by Immigration , and we would look on as our Nigerian cousins would be waved through, with a 'welcome sir' and a 'welcome madam' .

'The newspaper headlines in this country were full of Nigerians leaving or forgetting bundles of money in taxis and telephone booths. Nigerians were the preferred tenants for those who had apartments to let. You could stop by any Thomas Cook shop on any High Street in this country and buy or sell Naira, the Nigerian currency, and you could do the same in New York, and I suspect in many other Western country cities.

'I do not need to spell out today's reality to anyone in this audience. I cite this just to make the point that the "the outside world" is well able to tell that there are separate sovereign nations on the African continent. But, when the news is not good, then Africa is treated as one entity.'
Bawa also took exception to Jonathan's reference to Akufo-Addo's purported disposition towards cattle-rearing.
His words:
"The other alleged remark that 'Ghana is not Nigeria where cattle can roam about anyhow' has never been made by President Akufo-Addo; that is not his way of speaking.

"President Akufo-Addo , in many of the speeches he has made in Nigeria and elsewhere , since becoming President of Ghana , has described Nigeria as 'a country I describe as my second home in the world' , and will never use Nigeria to make negative examples, as the former President Goodluck Jonathan sought to portray.

"President Akufo-Addo enjoys a very good relationship with President Muhammadu Buhari , as he has with many other Nigerian leaders; Ghana and Nigeria are like siblings, and it would be most inappropriate, because of politics, for anyone, regardless of his or her status in society, to try to sow seeds of discord amongst the leadership and peoples of our two countries."