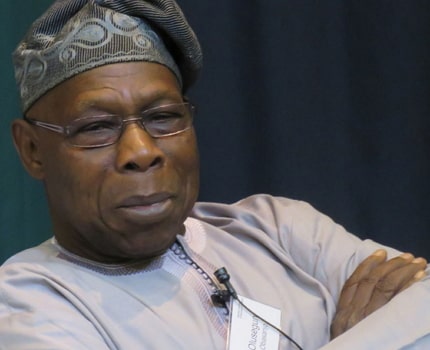 Making Sense Of Recent Political Dramas 
Tales of blood have railed our skein, of late. At intervals, they were intercepted by corruption and buffoonery. Each day in this country with its own issue. The scorching sun of our polity, that rises every morning, never sets. Yet, a nocturnal moon keeps interceding, reflecting rays of agony, and casting shadows of death and catastrophe on our land.
At one time, it was Atiku arrogating PDP's presidential glory to himself, with some foreign currency. In Port Harcourt, he boosted the Bureau-de-Change business, as delegates stormed their offices, 'nairalizing' their portion of Atiku's dollars.
Then it was the case between Obasanjo and God. The Owu chief had sworn never to back Atiku's presidential ambition. Should he, he said, "God would not forgive me."
Suddenly, both adversaries were spotted in Abeokuta, making peace. They were both flanked by a couple of men of God, giving the occasion a sense of divinity.
Whether their presence is for reconciliation or endorsement, it is unclear. Though it seemed more like invoking God's forgiveness on Baba Iyabo, for forgiving his former Vice President, Atiku.
But the question lingers: Will God forgive Obasanjo?
Then we were shocked by Ganduje. The Kano State governor who was caught on camera allegedly receiving some dollar bribes, and pocketing them in his Babanriga. Some said he was trying to hide them from the knowing of his aides. Selfishness, they claimed scuppered his persona.
Well, his media lieutenants have not been quiet either. Some have jumped into his defense, saying the video was fake and "obviously" doctored. They ask the journalist who exposed him to either provide full details of the scenario, or face the wrath of the law. They've been doing their job.
Still nursing the Kano bruise, Ayo Fayose came in. Something is spectacular about that guy, I must confess. He is an outstanding media practitioner. As a matter of fact, his media advisers are not from this world. How he manages to pull media frenzies almost all the time—and persistently— stuns me.
Whoever watched the "EFCC I'm here" saga more closely would see the plot. It was a deliberate stratagem. The timing was apt. Why was it on Fayemi's Inauguration Day? Simple. He was bent on shifting media attention from the Ekiti swearing-in, and at the same time, ridicule the anti-corruption fisticuffs.
The basket-mouth stormed the media with a melodrama, as he'd always do. Remember the 'inverted-P.O.P' drama during Ekiti electioneering. Gbenga Omotoso described his emergence: "He showed up at the EFCC like an amateur mountaineer— in a black T-shirt emblazoned with 'EFCC I'M HERE,' a pair of black glasses, a jean Fez-cap, and a bagpack he carried like a schoolboy."
Anyway, the EFCC doesn't seem to give a damn about him or his media frenzy and paparazzi. They've received a court order to detain him for two weeks, pronto, and have confiscated his Lagos property. Although, investigations and interrogations are still ongoing, only a glimpse of Kuje or Kirikiri seems to be flashing at Peter-The-Rock at the moment!
On a really sad note, however, we lost Hauwa Liman. An aid worker, she was slain in cold blood by the terrorist corpus our leaders have been unable to scupper. It's a show of how we've been stripped of our humanity. No emotions, no feelings, no heart to harbor respect for life.
Armed robbers sprinkle bullets on innocent souls. Kidnappers snatch fellow humans from their people and drain their hard-earned riches, in one go. Our leaders usurp our monies for themselves, and allege poor innocent animals of swallowing them.
Our workers are screaming of hunger; they are not being paid. Pensioners who have exhausted their lives serving the government die of distress. They are being knocked down by stroke and hypertension.
Solely because someone somewhere has swayed their rights into his own personal account. But are those corrupt heartless elites anywhere to be found in our prisons?
If this is how far we have come as a nation, we have failed!
[About the author: Muneer Yaqub, Usmanu Danfodiyo University, Sokoto.]