Columns
Goodluck Jonathan Had Passion But Lacked Purpose; Buhari Lacks Passion But Has Firm Purpose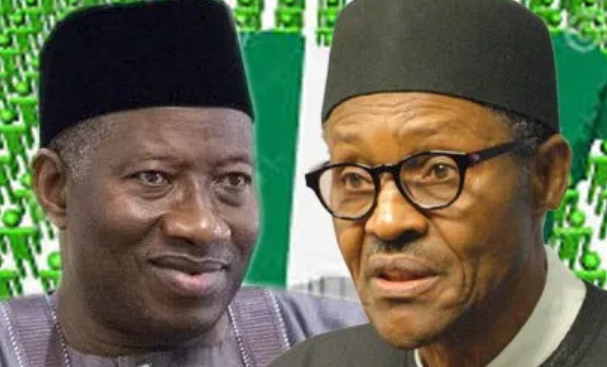 Goodluck Jonathan Had Passion But Lacks Purpose; Buhari Lacks Passion But Has Firm Purpose
By Simon Abah, Abuja
Had Jonathan Goodluck defeated Buhari Muhammadu in the 2015 presidential elections, Nigeria might not have come out of recession. He lacked the fiscal discipline to manage the economy, no disrespect to Jonathan, a very good man but goodness on its own never changed anything in history but brutal hard-headed leadership; and he made Nigerians boogied in the dark his entire period in office.

Iweala Okonjo said so before she disavowed her position. With less money than what Jonathan got, President Buhari Muhammadu did his best to steer the ship of state away from possible depression.

The bane of leaders in third world countries is the total collapse of real governance, there is no stability in the pursuit of policies. Away with the old and start with the new. The level of abandoned projects in Nigeria is befuddling. Every new government starts new projects and throws away all projects by the previous administration. They borrow money to start projects and never see it through to the end. This is not the case in Asia, irrespective of the previous party /government in power; new administrations pursue projects and complete them for the common good.
The Buhari Muhammadu's administration tower above Jonathan's because projects inherited from the Goodluck Jonathan administration aren't abandoned, they are investigated in the first instance and if established that they are not bogus projects awarded to cronies and that these tasks satisfy the aspiration of communities of people for whom the jobs are directed, these ventures are finished. He needs to be commended even though I am not his supporter any longer.
Under Jonathan, states couldn't pay salaries and even though it is not the responsibility of the federal government to pay salaries, bail out funds were given to states to do so. And now the government is on the tail of governors to recover said cash. Need I say also that even though the economy was rebased under Jonathan, it was just a boondoggle not felt by Nigerians and cash had to be borrowed to pay federal workers.
It doesn't appear to be business as usual.
We never hear of wastages of the ecological funds under Buhari anymore but we once did under Jonathan. You follow? These funds are released for critical projects and not for the sake of elections. How was Norway in 2014 able to raise its sovereign wealth fund to $829 billion from a paltry amount set up in 1990, and everyone in Norway theoretically became a millionaire in Norway's local currency?
Probing people under the guise of fighting corruption is not the answer to Nigeria's problems but the completion of abandoned projects.
These projects are in every corner and bend in Nigeria and completing them would serve the needs of Nigerians more. Here is where the country needs to deploy civil servants to supervise the completion of outstanding jobs instead of employment for quota basis and for its sake.
Legislation should be put in place to prevent politicians from awarding elephant projects as a pretext to lining their pockets with public money.
The main challenge of the Buhari administration is his failure to tackle the security challenges all over the place in the country. His media men are interested only in the glare of publicity and do not have the correct strategy in communicating his achievements to the Nigerian people.
All told, in rating the performance of Goodluck Jonathan and Muhammadu Buhari, the average performance of Jonathan for me (I may be wrong) was in the region of the 20th percentile. Jonathan had passion for the office of president of Nigeria but didn't have purpose. The average performance of Muhammadu Buhari for me (I may be wrong) in his first term in office was in the region of the 45th percentile. Muhammadu Buhari's purpose for the office of president of Nigeria was firmly fixed, but you could see that he didn't have passion for the office, the chief reason he hardly speaks to Nigerians, hardly travels in-country to find out missing pieces but loves to globetrot to tell world leaders where these missing pieces are in Nigeria and how world leaders can help Nigeria and at such moments he forgets that branding exercises starts at home.
I wonder aren't people his age scared of frequent travel on air. Neville Chamberlain was scared stiff of flying but had to, to see Hitler so as to prevent eminent war with Germany.
I need to consult my teachers to find out if both scores are pass marks in examinations?
About the author: Simon Abah writes from Abuja.