Crime News
Hall Of Shame: Top 5 Disgraced Nigerian Politicians For 2011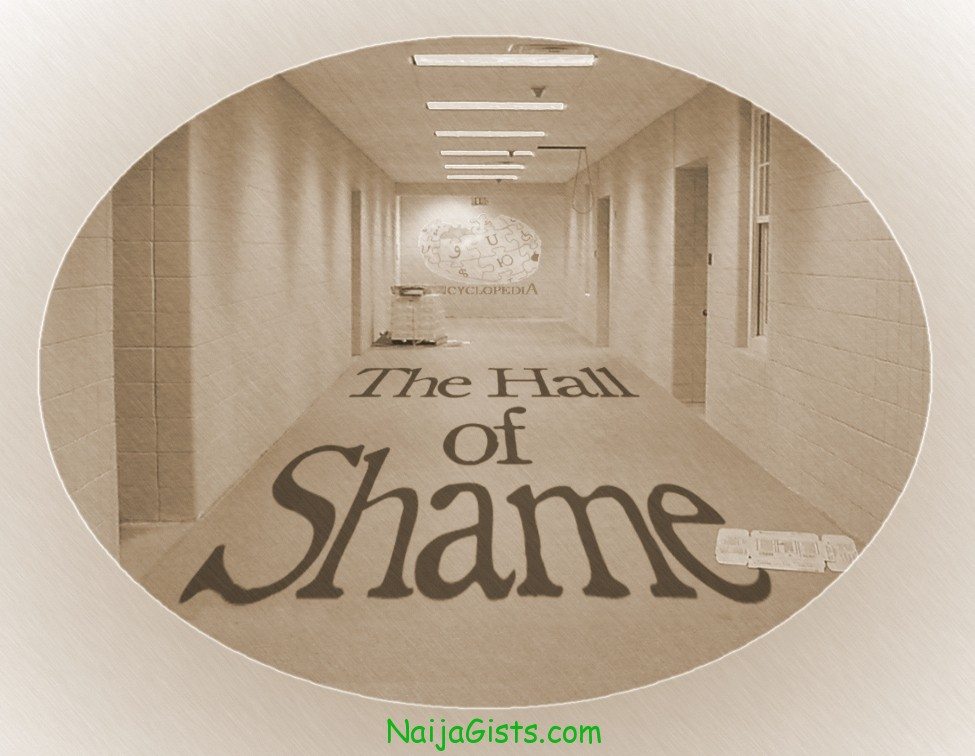 Dec 31, 2011 – Hall Of Shame: Top 5 Disgraced Nigerian Politicians For 2011
For many prominent Nigerians, the outgoing year has been challenging. It is a year some of them will not forget in a hurry on account of the pains it inflicted on them. Below are some of the different folks with different strokes.
Olabode George
The release of a chieftain of the people's Democratic Party (PDP), Chief Olabode George, from the Kiririkiri Maximum Prisons in February would go down as one of the high points of political and social activities in the outgoing year. The former Chairman of the board of the Nigerian Ports Authority (NPA) had been sentenced to two years imprisonment along with the Managing Director and four other members of the board after they were convicted by Justice Joseph Oyewole of the Lagos High Court on September 26, 2009 for contract inflation.
It was one of the few cases in which an eminent politician like George would be convicted for corrupt practices. The matter, as would be expected, generated national and international interest. While in detention, he had fought tooth and nail to secure a bail, but all his efforts were to no avail. Twice his friends, associates and family members stormed the court in their aso ebi (ceremonial uniform) in the hope that their man would be released on bail so that they would see him home amid drumming and dancing, but twice they returned home crest fallen
And when George completed his jail term and was eventually released, many expected a subdued celebration or that George would bow his head and go home quietly. But they were shocked to find that the drums were rolled out by some of his friends and political associates to herald his freedom. As would be expected, the development generated widespread condemnation from many Nigerians who could not understand what was worth celebrating in a man that had just returned from prison for engaging in corruption. Included among the critics of the mega show of shame was former President Olusegun Obasanjo who had attended the thanksgiving service held in honour of George at a Lagos church but later condemned the reception held in honour of the PDP chieftain as a celebration of criminality.
Obasanjo said: "Let us get a few things right. When (Bode) George went to prison, the first thing that I did was to find out from his lawyer what really went wrong. What the lawyer said was not what I found out eventually.
"Then, he (Bode George) sent a passionate message to me from prison, urging me to attend a family church thanksgiving and I believe that for whatever reason, if any family is giving thanks in the church or in the mosque and they invite me and I am able to go there, I will go, whether it is for marriage, for burial, house warming or christening a child. But when I got to the church, the atmosphere I found was more than a family affair.
"And I even took the opportunity to ask the state PDP chairman, 'Is this a PDP affair?'  And he told me it was not a PDP affair because I don't see why the PDP, as a national party, as a party that is trying to form a government in Lagos State, as a party that formed the government at the national level and in at least 27 states in the country, should be celebrating criminality because whatever we may say, the reason Bode went to prison should be condemned by everybody and I have condemned it. He did not go to prison for a political offence.
"If he had been sent to prison for a political offence, then, he comes back and all his political associates may get round him and the PDP must do something noble and wholesome; but in this case, the PDP as a party must dissociates itself from celebrating criminality."
James Onanefe Ibori
The outgoing year is one a former Governor of Delta State, James Onanefe Ibori, would not forget in a hurry. After many years of hide-and-seek with the law, he eventually came face to face with it with his arrest for fraud and money laundering in Dubai, United Arab Emirates in May last year. It was a fate inflicted on him by the death of former President, Alhaji Umaru Yar'Adua, whose administration was literally a stooge of the fugitive former governor of Delta State.
While Ibori had been declared wanted by the Economic and Financial Crimes Commission over alleged diversion of N528 million shares belonging to Delta State in Oceanic Bank, he was believed to have been so influential in the administration of Yar'Adua that he influenced the appointment of many key officials of the administration, including the then Minister of Justice, Mr Michael Aondoakaa, who did everything he could to frustrate efforts made at bringing Ibori to justice.
With the death of Yar'Adua, Ibori, suspecting that there would be no more hiding place for him in Nigeria, fled to Dubai, where he hoped to live it up without any disturbance. But he was arrested in May last year before he was extradited to London in April this year under the Extradition Treaty and Mutual Legal Assistance signed between the UK and the government of the United Arab Emirates, to answer to charges of money laundering. He was believed to have been arrested on a warrant issued by the London Metropolitan Police following a tip-off by Nigerian security agencies.
If convicted, Ibori will join his wife, Theresa Ibori, who was sentenced to five years imprisonment on November 22 last year by a Southwark Crown Court in London where she was also tried for money laundering. In a previous trial, the court had also sent to prison Ibori's sister, Christine Ibori-Ibie and his mistress, Udoamaka Okoronkwo-Onuigbo.
Farida Waziri
After weeks of speculation concerning alleged frosty relationship between the immediate past chairman of the Economic and Financial Crimes Commission (EFCC), Mrs Farida Waziri, the   former EFCC boss was last month unceremoniously removed by President Goodluck Jonathan. Her removal was conveyed in a terse statement by the President's spokesman, Dr. Reuben Abati, which gave no reason for her immediate replacement with the former Director of Operations at the commission, Mr. Ibrahim Larmode.
The statement had stated that "Larmode's appointment effectively relieves Mrs Farida Waziri of her position as EFCC Chairman."  Mrs. Waziri was appointed EFCC Chairman by the late President Umaru Musa Yar'Adua on May 18, 2008, after which her appointment was confirmed by the Senate on May 27 the same year. Prior to her removal, Waziri had repeatedly complained that she was being frustrated by the powers that be in the execution of her duties.
There were speculations that she could have been marked for removal from the day Jonathan succeeded Yar'Adua as the nation's substantive President because Waziri was seen as a loyalist of perceived political enemies of Jonathan. She was also said not to have demonstrated support for Jonathan in the heady succession game in Aso Rock during the dying days of Yar'Adua. Besides, there was said to have been intense pressure for her removal from formidable political interests which cut across party lines. The National Assembly and the Governors' Forum were said to have harboured some of the people who influenced the decision of President Jonathan to fire her.
Be it as it may, Waziri would be credited with the conviction of the former Managing Director of Oceanic Bank, Mrs Cecilia Ibru, from whom the bank's assets worth about N90 billion were recovered and Chief Bode George, among others.
Gbenga Daniel
Of the politicians whose ambitions crumbled in the last general elections, former Ogun State governor, Otunba Gbenga Daniel would rank as one of the most notable. Although he served for two terms as the governor of the Gateway State, his bid to install his strong political ally, Gbenga Isiaka, as his successor fell on his face, just like his senatorial ambition crumbled like a pack of cards.
His undoing were the confrontation he had with former Nigerian President and Chairman of the Board of Trustees of the People's Democratic Party (PDP), Gen. Olusegun Obsanjo and the political machinery of the Action Conress of Nigeria (ACN), which assumed the dimension of a hydrokinetic force in the South West during the elections. Realising that he would not secure the senatorial and governorship tickets in the state on account of his confrontation with Obasanjo, he floated a new political party through which he sought to be elected into the Senate and install Isiaka, but it was the ACN candidates that triumphed in the election.
As if the pain of losing the elections were not enough, Daniel has been facing trial over allegations of misappropriation of public funds to the tune of N58 billion levelled against him by the Economic and Financial Crimes Commission (EFCC), although his media assistant, Adebanjo Adegbenro, said the sum involved was inflated by the media and could not have been more than N5 billion.
Although he is currently enjoying the bail granted him by an Abeokuta High Court under very stringent conditions, his palatial home, the Asoludero Court, has been under threats of demolition/acquisition by the Ogun State Government, because he was alleged to have acquired the government land upon which it is erected with executive fiat.
Adebayo Alao-Akala
Otunba Adebayo Alao-Akala, the immediate past governor of Oyo State, is also one of the victims of the rejuvenated Action Congress of Nigeria (ACN), which swept the polls in the South West during the last general elections. He had sought a second term in office only to be roundly defeated by the ACN candidate, Senator Abiola Ajimobi.
Like the former governor of Ogun State, Gbenga Daniel, Alao-Akala was also arrested over allegations of misappropriation of public funds. In fact, he was said to be so afraid of his fate after losing the governorship election to Ajimobi that he made an attempt to flee the country before he was encouraged by the Presidency to remain in the country. His case is also pending in court. (the nation)