Crime News
Herbalist Arrested In Ile Ife Distances Self From Businessman Caught With Human Head Meant For Money Ritual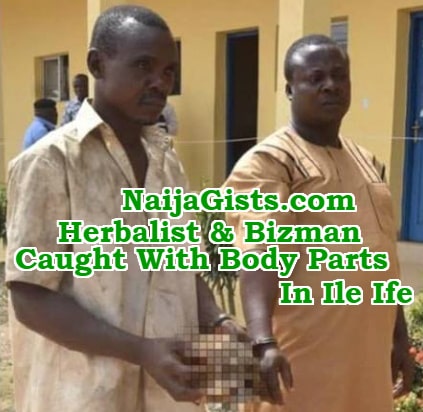 Herbalist Arrested For Money Rituals In Ile Ife Distances Self From Businessman Caught With Body Parts Meant For Fortune Changing Charms
A witch daughter identified as Amos Sulaiman has distanced himself from his client, Supo Bamidele who was recently arrested with human head and wrists meant for money ritual.
Sulaimon who was paraded by the Osun State Commissioner of Police, Mr Fimihan Adeoye, in Osogbo, alongside his client Supo Bamidele, said he had never been involved in money rituals.
Adeoye told journalists that Bamidele was caught with a severed head and wrist in Ile-Ife, and upon his arrest, he told the police that his herbalist asked him to bring the human parts for ritual.
Explaining what transpired between him and his client, Sulaimon stated,
"I am an herbalist and I live and work in Ile-Ife. Bamidele had been coming to me to seek spiritual assistance. I inherited this job from my father and we don't engage in money rituals.

"I don't do evil nor engage in money rituals. In the last four months, Bamidele had been disturbing me for spiritual assistance, because he claimed that his business was not doing well and that he wanted a charm that could improve his fortunes.
"Because he would not allow me to rest, I told him to bring a human head and wrist. It was a ploy to scare him away. I never knew he would go to the extent of looking for the items."
Responding to questions from journalists, Bamidele, who sells planks, said he resorted to fortune-changing charms because he was not doing well in the business.
Bamidele added that his wife and children had left him because he could not provide for their needs.
He added that he exhumed a corpse at a burial ground in Onikooko area of Ile-Ife, severed the head and wrist, and headed for the residence of the herbalist.
"I was, however, caught inside a tricycle that I took while going to my herbalist's house. I didn't know any of the people buried in the cemetery; I just went there and took the parts that I needed," he stated.