Hot Gists
How Chief Bode Akindele Made His Billions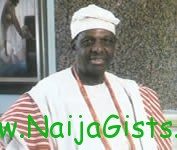 Chief Bode Akindele
Nov 18, 2011 – How Sir (Chief) Bode Akindele Made His Billions
According to a report Naijagists.com obtained from the news of the people, a regular visitor to the Fairgate group office of Chief Bode Akindele's office on Bond street, London can easily know if the Ibadan billionaire is in town or not. This is because right besides the office is a dedicated parking space for the businessman by the Borough of Hammersmith, exclusively reserved for Chief Akindele. So, whenever a Rolls Royce is parked at the space, it means Chief Akindele is in town. Inside the seven-storey building are several top managers coordinating the business activities of this top billionaire. Chief Akindele is not just a businessman, he represents the old riches that never dry.
Chief Bode Akindele Biography, Life History & Profile



There are billionaires and there are billionaires, but only few of these stupendously rich mortals are legitimate, genuine, authentic and very clean and open about how they made their millions, billions and trillions if you like. One man who belongs to this latter group of legitimate rich men and women is Chief Bode Akindele, the Parakoyi of Ibadanland. Because of his transparent tremendous wealth and philanthropic generosity, Chief Bode Akindele has become one of the most famous business magnates in Nigeria, Africa and even the entire universe. A catalogue of his business empire will astound anyone getting to know this information for the first time, and all these tentacles of his business empire are verifiable. That he has over the years been steadily consolidating his vast business network, thus transforming him into a successful and auspicious businessman, is not in any way conjectural but a real fact with proofs to show for it. For the record, Chief Akindele, a man of easy nature and mien, is extremely wealthy and this definitely ranks him comfortably in the top hierarchy of the few authentic billionaires in the country.
His conglomerate in Nigeria operates under the name MODANDOLA GROUP OF COMPANIES and his business interest spans from maritime to properties and manufacturing. Chief Akindele, a titled and high Chief of Ibadanland, is not only respected in Nigeria, he equally commands considerable respect in virtually all countries of the world that matter. For example, in the United Kingdom, where the headquarters of his international operations\ business is located, he is respected and highly regarded as a businessman of repute. His company, Fairgate Group located on Bond Street, Lodon, England, deals mainly in properties. Among the company's tenants are giant retail stores like Sainsbury and Asda Wall Mart. As at the last quantification, the Fairgate Group was said to be worth over a startling billion pounds sterling.
It may interest you to know that the first ever stunt Chief Bode Akindele pulled on the international scene was in Sweden about 25 years ago. Then, he proposed to buy over a Swedish match making company where others bidding for the same company had out of ignorance, underrated his ability. To their amazement, the business mogul did not only buy the company, he also closed it down to get total and full control of the match world market. As you are reading this, more than one third of the entire world match market is being firmly controlled by Chief Bode Akindele. It's the same success story in America, where he has a substantial investment in the property market and a sizeable large investment in top blue chip American companies.
Apart from Fairgate Properties, the business colossus also has a number of personal properties in choice areas of London. He is said to have bought his first personal house in London when he was in his late 20s.  A story has it that he once confessed to a friend that he had never bought a property on mortgage, and this has not been disproved by any one or authority till date. Presently, his palatial mansion in London, which is an architectural edifice, is located in posh areas of Stanmore in the North West axis of the City of London
Of course, Chief Bode Akindele could be said to have been born with a privileged background, silver spoon sort of, via his mother's pedigree. He quite admitted this much in an interview sometime ago that this probably may have set him on the path of success, his zeal and drive to make it in life can not be deemphasized. His mother, Alhaja Rabiatu Adedigba was a wealthy and successful trader and an opinion leader in the ancient city of Ibadan before she died in 1976 at the age of 86. She was said to be the first woman in Ibadan to go to Mecca in 1953.
Chief Bode Akindele's major breakthrough in business came when he met his business partners, the Rothschild, a very influential family of solid business network from Israel. They were the ones that actually turned all the business fortunes of the Ibadan High Chief to a mega and international business empire. Incontrovertible sources from different countries say the Rothschild family virtually controls the business and economy of countries like Italy, UK, Germany, France, America and many more with the Rothschild's vast investment in those countries. The family is also known to control almost all the major financial transactions of the world. Chief Akindele's closeness to the Jew family was also evident in his involvement in the BCCI, the bank that was rooted by the Rothschild business empire. He then had the largest shares in the bank, even more than those perceived to be the owners of the bank. Thus, it was only natural and rather dramatic that while others lost huge amount in the burst, the business mogul did not lose a dime. He simply withdrew all his money before the burble burst.
Chief Akindele had his primary education at Olubi Memorial School, Ibadan and Lisabi Grammar school, Abeokuta before he plunged fully into the business world.
Today, even if Chief Akindele is known more for his business acumen, his knack for philanthropy and generosity knows no bounds as he is said to have single handedly sponsored many projects and using his financial clout to better the condition of the underprivileged, irrespective of their tribe, religion or sex. Chief Akindele is indeed a billionaire par excellence.