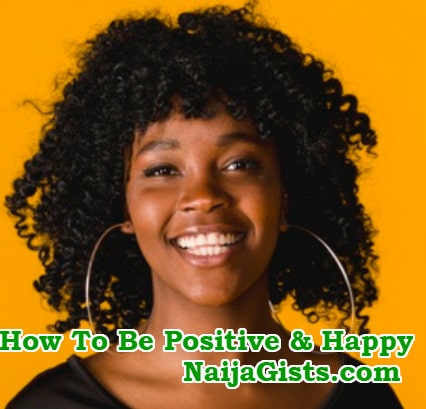 How To Be Positive And Happy (Guide To Staying Positive In Difficult Times)
Positivity is highly needed if one must be successful in life. This is so because it helps people go through every phase of your life courageously. It takes away unwanted fear and makes you bold enough to approach the world.
How to stay positive at work
Being positive at work is really easy especially when you love what you are doing. It you want to improve on your positivity level at work,
Improve yourself in your area of specialization
Make friends in your work place
Be active, don't just sit on your desk waiting for the day to be over
Contribute and take responsibilities; you'll be truly satisfied with yourself when you are done
Manage your time well. Make time for work, friends, family, and yourself. Don't forget the things that matters most to you because of your work.
How to stay positive when sick
No one loves sickness and it may sound crazy telling a person going through some serious sickness to stay positive, but they are alive and they have to stay positive if they must recover from the illness. If you are sick you can feel better even with that sickness if you try the following:
Be grateful for life. Remember, being sick means you are alive and have a chance of getting better. Those that are dead have no such chance.
Celebrate your ability to undergo some tasks during the period of your sickness. If your health is improving, celebrate it too.
Find better ways of handling stress because it will always come. Get your mind off the sickness and all you have lost because of it. Thinking about it will only make you feel worse.
Stick to the instructions of your doctor. Do what they say you should and run away from what they said you shouldn't; this will help you recover faster.
Believe you will get better. Only the living have hope so as long as you are alive, do not give up on yourself. That sickness will not be the end of you.
How to stay positive during job search
Staying unemployed may be frustrating but to get better, you can stay positive if you
Stop worrying. Worry will always come around especially if you have been searching for a while but don't let it get you. If it already did, free yourself from it because it is a joy killer.
Get over previous disappointment; the more you spend your time thinking on how horrible your last interview was, the lesser your chances of getting better in your next. Let it go. It's over and you should get prepared for the next one coming. All you can do from your previous disappointment is to learn from them.
Always be ready for the job you've been expecting can come at any time. Always get your things together and do not travel too far from the location you are expecting to be employed.
Make a job search schedule. Let there be a set time for you to go online and search for new openings. It can be daily, weekly or anyhow you want it. Just be sure it is regular.
Join a network of job seekers. This will get you updated on the current vacancies and you will never lag behind.
Never give up
How to stay positive during IVF
With all the uncertainties associated with IVF, it is important to stay positive. IVF has helped many couples increase their chances of conception. I know increasing the chance alone doesn't sound so good but it is highly possible that you will definitely get pregnant and give birth successfully from yours.
While waiting, you can be positive by:
Being realistic
Truly, to get through this period without losing so much of yourself to negativity, you have to know that it may or may not work. Get yourself to realize this truth so that you will not find yourself being too disappointed when the result is out.
This doesn't mean you shouldn't expect a positive result; you should as a matter of fact. Being realistic will help you not overthink about the situation; it will also reduce your stress and make you stand a better chance of conceiving.
Getting support
Don't try to do everything on your own, talk to your family and friends for support. This time will definitely not be easy but having people to talk to will definitely help you get through positively.
Continue your normal life
Don't get lost in the wait; continue your normal life while continuing the IVF treatment. You just have to do the things you love, keep the sex regular and when you have your baby, you'll be happy you weren't too anxious.
How to stay positive when injured
Things get bad and serious injuries happen. Don't get consumed by the fact that you are injured. There are ways of coping with injuries and one of the most important ones is being positive. You can learn to stay positive by:
Adjusting to the change
To help yourself attain positivity during this difficult time, accept what has happened. Stop feeling bitter about it. If it has made you unable to do the things you loved to do, accept it and don't push yourself too hard. Believe it is just for a period and that very soon, you will be well again.
Focus on other things
Take your mind off the injury. Get to focus on those things that make you happy. With this, you will heal faster without being bitter about the process.
Have foresight
If your injuries are keeping you from doing many physical activities, you can take that time to make yourself better. Set goals and make out plans of what you will be pursuing after the injury. This will help you stay hopeful and keep you looking forward to being totally healed.
Don't overstress about the negative results
What did the doctor say about your situation? Was it bad? Now, I want you to take your mind off it. You should only stick to the dos and don'ts but do not let yourself sleep around the impossibilities associated with your result. You will soon be better.
Have a positive outlook
Try not to let the injury weigh you down. Looking sulked up will only help you mobilize a lot of people to pity you. Show them you are strong because you really are.
How to stay positive when sales are down
Business are full of ups and downs and as an entrepreneur, you should know how and what to do during this period so things don't get worse. The best way to be positive when your sales are down is by
Having a cheerful countenance so that the little customers that are coming in will not be repelled.
Having a funny view of things especially when everything around you seems annoying. Reacting to things the way they are may push away those that are patronizing you. Again, laughing will reduce the tension and boost your energy to make progress.
Having a recheck on your basic plan to find out what went wrong and make the necessary arrangements.
Making a new plan and stick to executing it. If one way doesn't work, another will.
Changing your attitude towards the business. Get to work early and try to cover the lapses you had.
Carrying on; don't let panic convince you of stopping.
Don't let negative thoughts weigh you down. Business fluctuates, it may be down today but with the necessary things in place, it will rise again.
How to stay positive in a relationship
Relationships are full of uncertainties but to get what you want from the uncertain world of relationships, you have to
Be selfless. Love is about giving and giving. Do not get your expectations high on receiving because you have given. Give your time, finances, advice and whatever you have to offer. You have to be a true lover before finding true love.
One more thing, give what you have but don't give yourself to it because if it goes wrong, you will still need yourself to be strong.
Accept your partner for who they are not what they have.
Voice out if you do not feel okay with a thing. Loving a person shouldn't make you accept whatever is thrown at you.
Believe you are loved. Do not think anyone that comes into your life is coming to steal something from you.
Enjoy the moment. Enjoy your partner's company while you still have them, with this, you won't regret much if the relationship doesn't get to where you would have loved it to.
Leave if you are being abused or mistreated. You can stay positive by yourself while hoping for a better relationship.
How to stay positive during difficult times
Times are hard and if you wait for a perfect time to be happy, you may never be. So how do we go through these hard times without getting sad and depressed? The answer is simple; stay positive and you can stay positive by
Finding good out of every bad situation. There is always something good about even the worst situation; find it and encourage yourself with it.
Taking things the way they are. Do not exaggerate the negative effect of the events or happenings around you.
Living in the present; do not get yourself worked up about the uncertain tomorrow.
Going for what you want. Letting fear hold you back from doing what you are supposed to do will soon take you to another level of being miserable.
Volunteering and making a difference in someone's life. You will feel more positive about yourself when you put a smile on someone's face.
Having a healthy self-esteem; it will help you face the world.
Continually working and hoping for a better tomorrow. Never let your dreams slip away. They will soon become your reality.