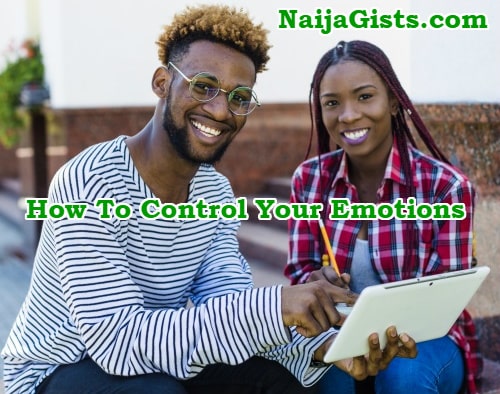 How To Control Your Emotions
Emotion has to do with changes in our thought patterns, feelings, mood and body responses that are mainly caused by internal and external events such as panic, love, grief, heartbreak, anger, fear and so on.
It is better to manage our emotions whenever we go through an incident because suppressing or avoiding the way we feel makes it hard for us to cope with life issues.
Below are different situations that can cause our emotions to pop up and how we can address them.
How to control your emotions during a difficult conversation
It is hard to not get emotionally involved in a difficult conversation especially when you guys have different views but here are ways to make the conversation both productive and painless.
Acknowledge the way you feel: This will help you to label how you feel at that moment so you can think of the next action to take.
Change your negative thoughts to happy thoughts: Instead of thinking on how to hurt the person, think about better things.
Breathe or meditate: It will help to relieve the tension.
Walk away from the conversation: Step away when you see that the discussion is getting to you to avoid hurting the person.
After you walk away look for something to keep your mind busy: This is because you will become more troubled when you spend time thinking of the conversation. You can decide to call a friend who can lift your spirit up or listen to music.
Consider the objective: Remember why you are having the conversation with the person.
Be silent and allow the person to talk: You might get to understand the point the person is trying to prove.
Don't analyze the conversation: This is because when you think back to the conversation you'll start feeling as if you didn't respond well.
Don't personalize whatever was being discussed: Even if the other person said bad stuffs about you, you should know you are not any of those things.
How to control your emotions at work
Stressful situations in the workplace can make us lose our cool in front of others. It can result from the fear of being fired, dealing with a difficult client or colleague, not meeting a deadline, or not handling a difficult task. For you to be able to handle your emotions and not harm your professional reputation at work, you have to:
Evaluate the way you feel: It is a great way to reflect on how to respond.
Take deep breaths to calm yourself.
Don't go about worrying or complaining to everyone. It will make you feel agitated.
Don't take whatever happened personal. As much as some people are out to get you, you should realize that you are better than what they think.
Take a walk or lunch break to calm yourself.
Smile, laugh, and be happy.
Transfer your emotions to something else.
Hold off any form of communication while you are still boiling up.
Don't try to revenge or make the person feel as bad as they made you feel.
Tell the person in a respectful manner how you won't tolerate being treated less.
Apologize if you reacted wrongly: This is mostly when you take it out on other people.
Focus on how to improve the situation.
See your emotions as an opportunity for growth.
Don't carry the stress home.
How to control your emotions in a relationship
In relationships, conflict is bound to happen and partners tend to read meaning into each other's words and behavior. However, it is important to get your emotions under control for a happier relationship. Try these tips for a better outlook:
Be calm in your interaction with the person.
Don't act based on your feelings: Leave the argument when it has gotten too much because you might act irrational and say what you don't mean.
Consider what caused the argument in the first place.
Process your feelings in a non-judgmental way.
Be open and honest in your communication.
Don't act defensive or aggressive: Don't jump to conclusion. Do your best to listen and understand your partner's perspective.
Get some space from the relationship.
Avoid dwelling on negative thoughts as it is unhealthy.
Get some sleep to calm your nerves.
Get emotional support from your friends and family.
See a doctor if you find it hard to manage your emotions.
How to control your emotions in the moment
Most people don't know how to act when their emotions go overboard. Our success in handling emotional situations determines how we view ourselves and how we relate with others. To gain better control over your emotions in a situation, you need to:
Identify what you are feeling at that point in time.
Set a boundary: Take a break from the situation when you feel that you are about to react.
Don't react right away because you might get to say or do what you will regret.
Be calm: Take deep breaths to stabilize the way you are feeling at that point.
Channel your emotions through exercise: Exercise is a good way to relieve tension from the body.
See the situation as a process for you to learn.
Keep a journal: Write down what is bothering you.
Build your mindfulness by meditating.
Replace your negative thoughts with positive ones.
How to control your emotions spiritually
No matter what we believe in, we still need faith in our darkest moments. If you are a Christian, here are a few bible scriptures to guide you:
Proverbs 4: 23 – Keep your heart with all diligence, for out of it are the issues of life.
Colossians 3:8 – Put away from you: wrath, anger, slander and obscene talk.
Philippians 4:6 – Do not be anxious about anything.
James 1:19 – Let every man be swift to ear, slow to speak, slow to anger.
Proverbs 29:11 – A fool loses his temper, but a wise man holds it back.
Ephesians 4:32 –Be kind and compassionate to one another.
Ecclesiastes 11:10 – Remove grief and anger from your heart.
1 Corinthians 16:13 –Stand firm in faith, be strong, be courageous.
2 Corinthians 6:12 – You are restraining by your affections.
Proverbs 15:18 – An angry man stirs up straight but he that is slow to anger quiets contention.
Joshua 1:9 –Be not dismayed or frightened.
Ephesians 4:26 – Be angry and do not sin: let not the sun go down upon your wrath.
Roman 12:9 – Let love be genuine, abhor what is evil.
Proverbs 15:13 – A glad heart makes a cheerful face but sorrow of the heart the spirit is broken.
1 Corinthians 13:4 – Love is patient, love is kind.
Proverbs 16: 32 –Whoever is slow to anger is better than the mighty; and he that rules his spirit than he that takes a city.
Proverbs 17:22 – A joyful heart is good medicine, but a crushed spirit dries up the bones.
1 John 3:15 – Whoever hates his brother is a murderer: and ye know that no murderer hath eternal life abiding in him.
How to control your emotions as a man
It is normal to have emotions as we are all emotional beings but for men, showing their emotions is a sign of weakness. They feel they won't be respected once their emotions show. Try these tips if you want to be able to talk to others without losing your cool:
Stay away from situations that trigger your emotions.
Go to the gym or take fitness classes to release the physical tension from your body.
Acknowledge your feelings instead of hiding them: Don't think that the feelings will go away just like that.
Don't take it out on people who want to help.
Make healthy choices: Don't use alcohol as a distraction to hide what you are going through.
Be open to your close friends about what you are feeling.
Take deep breaths, walk around or recite a mantra to calm you down.
Don't react: Learn from how you reacted in the past and how things turned out.
Don't be hard on yourself: It is normal to feel things.
Hang out with your family and have a good time.
Talk to a psychologist if you can't handle them.
How to control your emotions as a woman
Most people avoid some women because they feel they are too emotional. Women are more prone to say what they feel or think at a particular time because they attach their memories to their emotions. Here are ways to handle your feelings as a woman:
Write down your thoughts: It will help you to filter and keep them in check.
Smile always.
Take care of your body: Choose healthy ways to comfort yourself.
Practice stress reduction exercises like yoga or deep breathing to redirect your negative thoughts.
Avoid situations that will drag you down.
Spend time with your friends: They can help you to manage your emotions.
Express yourself: Don't suppress what you feel inside.
Engage in activities that you love.
Don't listen to what other people are saying about you.
For more motivational articles, visit NaijaGists Motivation Column.