Entertainment News
How To Get A Record Deal With Sony Music Entertainment (2019 Fast Action Guide)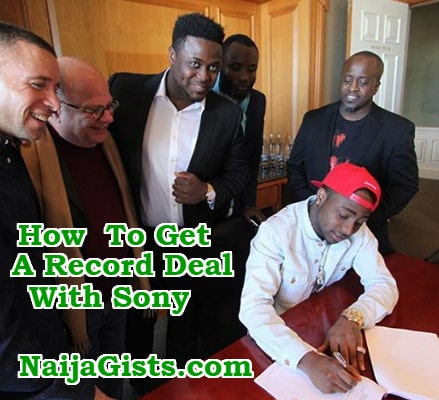 How To Get A Record Deal With Sony: Guide To Signing A Recording Deal With Sony Music Entertainment
Are you an upcoming music artiste? Do you have what it takes to become a global music star? If so, this article is just for you! We will be showing you how to get a record deal with Sony – a prominent music management group.
Sony Music is one of the largest music groups in the world, domiciled in the US. The group have a wide network of artistes, spanning across virtually all the six inhabited continents of the world. And they are always looking for exceptional talents to add to their ranks.
How To Get A Record Deal With Sony
So, if you are a talented music artiste, preferably in the US, Sony Music is one of the best talent management platforms out there for you. And we have curated an exclusive guide on how you can secure a recording deal with the group.
Sony Music History
Sony Music Entertainment, conveniently known as Sony Music, is a US-based international music group owned by the Japanese multinational conglomerate – Sony Corporation. The group was founded in 1929, as American Record Corporation. And for the next 70 years (or thereabout), the group witnessed several transitions and name changes, before eventually settling for "Sony Music Entertainment" in 1991, after it was acquired by a subsidiary group of Sony Corporation.
Since then, Sony Music has grown significantly in prominence, having managed some of the most prominent names in the music world. Notable mentions, in this regard, include the likes of Anastacia, Backstreet Boys, B.I.G (Notorious), Jennifer Lopez and the iconic singer/dancer, Micheal Jackson. The music group, today, is a multibillion dollar enterprise, rated among the biggest conglomerates in the world.
Sony Music's financial and reputational superiority stem, primarily, from their talent-sourcing ingenuity. They have managed to produce some of the biggest talents in the music industry, who have in turn earned the music group billions of dollars in revenue.
The music group operates as a conglomerate, serving as an umbrella body for a host of record labels and music management groups. Most of these groups are domiciled in the US, while others are stationed outside the States.
Notable music groups under Sony Music include:
Sony Music UK
Sony Music Masterworks
Columbia Records
ROC Nation (affiliated with Universal Music Group)
Epic Records
RCA Records
Arista Records
Sony Music Latin
Ariola Records
Flying Buddha
RCA Inspiration (Gospel-based label)
And many more
Sony Music Artists List
As emphasized above, Sony Music has a wide network of artistes across the globe. Majority of these artistes are based in the US, while others are scattered about; in South America, Europe, Asia, Australia and Africa (including Nigeria).
In Nigeria, there is a number of music artistes who have record deals with Sony. And for convenience, we'll be looking at the list of Sony Music artistes from the Nigerian perspective.
Wizkid
Wizkid, born Ayo Balogun, joined the squad of Nigerian artistes under Sony Music's management a couple of years ago. He was signed by RCA Records (a subsidiary label of Sony Music) some time in 2017. The deal is rumoured to be worth 7 figures, in dollars.
Davido
Davido signed a so-called "two-album" deal with Sony Music in 2016. The deal will see the music group handle the distribution of Davido's next two albums. According to unconfirmed reports, the deal is worth millions of dollars.
D'Banj
Nigerian music legend, D'Banj, is one of the first set of Nigerian artistes to join Sony Music. D'Banj signed a record deal with Sony Music six years ago, in 2012. He was signed as part of a partnership deal with his record label, DB Records.
Tekno
Tekno, who recently launched his own record label, is one of the top Nigerian music artistes under Sony Music. He put pen paper some time in January 2017, in a deal worth around $4 million. Although not much is known about the details of the deal, it is surely a big achievement for the young singer.
Tiwa Savage
Mavin star, Tiwa Savage, is currently signed under Jay Z's ROC Nation, which is an affiliate group of Sony Music. Prior to this time, she was a bonafide Sony artiste, signed under the group since way back in 2009.
Other Prominent Sony Music Artists
Beyonce (US)
Adele (UK)
Drake (US/Canada)
Chris Brown (US)
Britney Spears (US)
Robbie Williams (United Kingdoms)
AKA (South Africa)
YCee (Nigeria)
Mariah Carey (US)
Cindi Yen (Taiwan)
Brian Joo (Korea)
Signing A Record Deal With Sony Music Entertainment
Sony Music is arguably the biggest music group in the world, in terms of network. The group is headquartered in New York, US; however, they have bases in every continent of the world, managing hundreds of artistes across the globe.
Although most of the artistes under Sony Music were already established before joining the music group, a handful of them were able to secure record deals as upcoming artistes.
So, if you are an upcoming artiste and you are looking for a durable springboard to launch your career, you can't get a better platform than Sony Music. Hence, in the forthcoming section of this article, we'll be showing you how to get a record deal with Sony.
To get a record deal with Sony, follow the outlines below:
Create Quality Music
As a musician, the only way to explore and promote your talent is by recording quality songs, which would be used as demos to get record deals. So, if you don't have a song yet, put your head down, compose some songs and hit the studio.
Promote Your Songs
Today, we live in the digital world. So, the best way to promote your song is by hosting them on prominent streaming sites like SoundCloud, iTunes, Spotify YouTube and others. This might cost a token, but it is worth it.
Also, you can share your songs with friends and family, as well as on media & social media sites. The main objective of this is to establish a fan base.
Expand Your Fan Base
Once your fan base has been established (no matter how small), make efforts to expand it. To do this, you can;
Set up brand handles on Twitter, Instagram, YouTube, Facebook and so on;
Attend seminars and reach out to local shows' organizers;
Reach out to talent scouts (as many as you can);
Shoot music videos (if you can).
Contact Sony Music
Sony Music is a large corporation, and they receive thousands of emails, demos, phone calls and text messages on a daily basis. Therefore, the possibility of getting a feedback (on unsolicited messages) from them is very low. You can still try your luck, nonetheless.
You can get in touch with Sony Music via the following channels:
Visit their corporate website.
Go to this page, and call or send a text message to the nearest Sony Music branch.
Reach out to Sony Music talent-sourcing (A&R) managing executive – John Doelp – on Facebook
Reach to John Doelp on LinkedIn.
Send an email to barkan@sonymusic.com (attach a demo to the email).
Send an email (attach a demo) to doelp@sonymusic.com
Wait and hope for the best!
If you are lucky, your song(s) would be reviewed. And if it is good enough, you would be one step away from joining the likes of Wizkid, Tiwa Savage, Mariah Carey, Adele and other top global music stars.
Note: Based on the existing policy, Sony Music (or any of its subsidiary labels) does not review unsolicited demos. So, you should take note that the group would not take responsibility for any song sent to them.