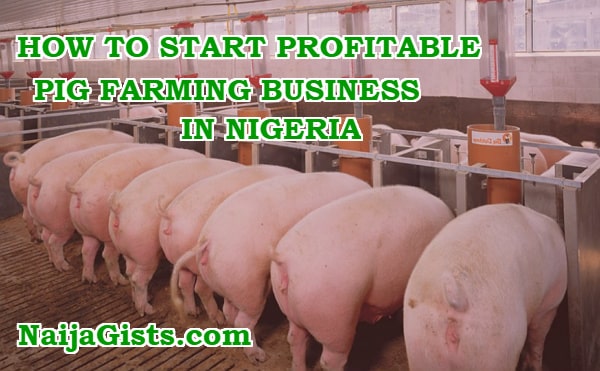 How To Start Pig Farming Business In Nigeria (Is Piggery Profitable In Nigeria? Find Out Here)
Today, we'll be taking you through a comprehensive business guide on how to start a pig farming business in Nigeria.
Farming is arguably the major source of employment in Nigeria, with more than 2/3 of the Nigerian population being partially or fully involved in the practice. Unfortunately, however, many of these farmers are subsistence arable farmers, whose primary focus is the cultivation of crops in small quantities, with little attention being given to the production of animals.
However, over the past two decades or thereabout, there have been increasing awareness on the lucrativeness of animal production, which, for most part of history has been viewed as less significant. Today, the husbandry of animals like chicken, cattle and more significantly, pig, has grown to become a lucrative business opportunity, which has transformed a good number of Nigerians into multimillionaires.
So, if you are looking to join the train and start a lucrative animal farm business, setting up a pig farm might be your best bet, as you have the opportunity to multiply your stock within a few years. This is because a typical pig could birth up to 15-20 piglets at a time; a feat not possible in any other domestic animal.
If you have interest in this business, follow through this article.
What is Needed to Start a Pig Farm?
Pig farming, otherwise known as piggery, is a relatively old practice in Agriculture. However, it only started to gain prominence in Nigeria a couple of decades back, with the increase in demand for pork meat and bacon, especially in the Christian-dominated South-Southern and South-Eastern regions of the country.
With the recent development and the consequent rise in demand for pork meat, pig farming has turned out to become a "gold mine" – a lucrative moneymaking venture – in the country. And there is near-infinite opportunities to accommodate virtually all investors and prospective investors.
Like every startup, there are guidelines to follow if you want your business to become sustainable in the long run. And we'll be bringing you some of these guidelines in the subsequent subsections.
How Much Do I Need to Start a Pig Farm in Nigeria?
Pig farming is scale-independent i.e. you can start the business at a small, medium or large scale. Therefore. depending on the available resources and startup capital, you can start the business as a small-scale venture or as a big enterprise. However, with the level of instability inherent in the Nigerian economy and business environment, the more viable option would be to start at a small or medium scale.
In figures, setting up a small piggery should cost between 100,000 and 300,000 Naira. At the medium scale, however, you'll be looking towards 500,000 to 1,000,000 Naira. This figure, of course, depends on location among other factors.
Once you've secured your startup capital (within the prescribed range), you can go ahead and set up your business. However, if you are looking for investors or you are looking to secure a grant, you might want to prepare a business proposal to boost your chances.
Piggery Farming Proposal: How Does it Look Like?
It is an open secret that no investor would pump money into your business without seeing a solid business proposal. A proposal is basically aimed at convincing investors or partners on the viability of your business. Hence, in this context, you have to prepare a solid proposal, which glaringly points out the viability of your pig farming business.
First off, you need to ensure the proposal covers basic details like "how much you need to start up", "your projected ROI (return on investment)", "market demand for pork and bacon", "notable piggeries in your locality and how well they are doing" and pm"prospective supply stock" among other important details.
Furthermore, it is important to note that a business proposal should be well-tailored, in line with your business area and needs. And it should not, in any way, reflect any form of unseriousness.
Lastly, your proposal should be concise, straight to the point, and free of grammatical errors.
Pig Farming Business Plan: Prepare a Business Plan
Once you've secured startup funds, you can go ahead and prepare your business plan.
A pig farming business, should indicate the following among other details:
Name of farm/business
Long and short term goals
Startup capital
Operation cost and miscellaneous
Farmland and Pen spaces (by acres/hectares/sq.km)
Projected income
Staff strength (if needed)
Stock supply
Location and access to target market
And more
Basically, every business plan should take into consideration a host of factors, most notably location, available capital and size of market (demand). In Nigeria, pig farming business is generally more lucrative in the Southern region of the country. In fact, the business is practically nonexisting in the core Northern zone, as the consumption of pork and other products from pig is generally viewed as haram (unlawful). Hence, the business plan for a pig farm up north would definitely be different from the one down south.
Typically, a pig farm in the northern part of the country, in a bid to reach the target market, might have to move its products down south. In this case, the cost of movement and required manpower (and man-hour) would be considered when preparing a business plan.
Procure a Farmland
Farmland, in this context, does not mean tilled fertile land. Pig farming is very much different from arable farming, and thus, does not necessary require a fertile land area. All you need is an expansive space, preferably a pastural field, where you can keep, breed and nurture your pig stock.
Basically, for a startup, an acre of land should be enough, provided you are looking to maintain a small stock. However, it is not ideal, as you would be needing a much larger space in about a year or two when the stock multiplies in folds. Therefore, it is recommended you rent/lease/buy an expansive farm space, preferably in hectares.
Essentially, money is of paramount importance here; so, it is recommended you acquire a farm land that you can afford, preferably on lease, if it is too cost to purchase.
Erect Pens with Proper Drainage System
Contrary to popular belief, pigs are not exactly dirty animals. Due to their physiology, they constantly need to hydrate and cool off their body in water; hence, there marked presence in muddy environments. This could easily be controlled by the erection of pens, with adequate drainage system and pools where the pigs can cool off and play.
Pigs raised in confined farms, in pens, are generally healthier and more hygienic than many other so-called "clean" animals that roam about.
Buy Stock
As a startup, you might want to start small, and the ideal stock to get here is a stock of piglets, which would come at a relatively affordable price. However, if you have the money and you are looking to optimize and start production right away, you can purchase a handful of weaners; sows (female pigs) and boars (male pigs). Of course, the female stock should be more than the male stock, normally in the ratio 4:1.
Start Production
Once you get your stock, with every other thing in place, you are all set! If your new stock is too large for you to manage alone, you can hire extra hands, with respect to the size of your stock, as well as the size of your farm and pen spaces. Normally, you would require labour to clean pens, grade pastures and feed stock.
One key area here is "feeding", as the success and growth of your piggery business hinge majorly on how well-fed your stock is. Basically, the healthier and bulkier a pig is, the higher its value and vice versa. Hence, ensure provisions are made to keep your pig stock well-fed.
If the steps outlined herein are duly followed, you can start making your money, which typically multiplies every year.
Pig Farming Profits: How Lucrative is Pig Farming in Nigeria?
Pig farming is a rather new agro-based business in Nigeria, as more attention is on arable farming, as well as poultry farming and cattle rearing. Hence, its potential is still relatively unexplored in Nigeria.
In any case, the few prominent pig farmers in the country are making millions of Naira from the business on a daily basis.
On average, a fully matured pig sells for as much as 50,000 Naira, which, of course, varies depending on location.
In big pig markets like the South-East and the South-South, a pig farmer, with a herd of pigs numbering up to 1000, could earn as much as 20 million Naira in a year (approximately 1.7 million Naira per month). So, tell me if this is lucrative or not.
Largest Pig Farm in Nigeria
As a newbie going into the pig farming business, it is important you familiarize yourself with the big hitters in the industry.
At the moment, there is no verifiable information as to the largest pig farm in Nigeria. However, up until 3 to 4 decades ago, the largest pig farm in Nigeria (and in the world) was located in the northern city of Kano. The farm, named Maroun Pig Farm & Pork Processing farm was located in Kano, with its corporate headquarters in Lagos, under the management of K. Maroun and Company.
Maroun pig farm started production in 1943 and peaked in 1959, when it was producing over 400,000 pigs per year. Unfortunately, however, the farm folded up in the mid 1960s.
Disadvantages of Pig Farming in Nigeria
Pig farming, despite being a relatively new business, is marred by a handful of disadvantages, especially in the less conducive business environment of Nigeria.
In this section, we'll be listing out some of the challenges being faced by pig farmers in Nigeria These include:
Pig Farming is not a get-rich-quick scheme; it is not ideal as a short-term investment plan.
High maintenance and feeding costs; pigs are generally heavy eaters, and thus, require sizable amount of feed daily, which doesn't come cheap.
Access to target market; this is especially an issue in the northern region of the country, where pork production is widely prohibited.
Outbreak of diseases like the Swine fever and Porcine Epidemic Diarrhea (PED) among other infectious diseases. The issue of disease outbreaks has been a major challenge in the pig farming/production industry.
Insufficient (or even nonexistent) support from the government; little attention is being given to pig farming by the government.
For more business ideas and investment opportunities, visit NaijaGists.com Creativity Column.