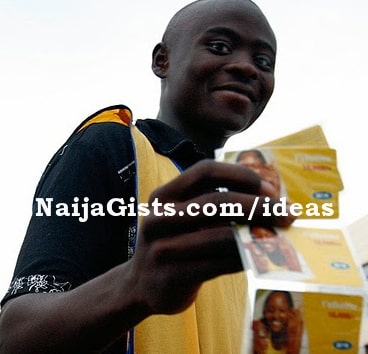 How To Start Recharge Card Selling Business In Nigeria: Capital Required & Useful Tips
Recharge card selling business is one of the most profitable businesses in Nigeria nowadays. There's no street you'll visit now in Nigeria that you won't find several people selling recharge cards. The telecommunication companies in Nigeria have made it possible for any common man to start a recharge card business at all levels.
Even if you only have 10000 Naira in account, you can start the recharge card business right away. There are other people who may want to invest up to a million naira into this business. Such people are categorized as large-scale business owners and they act as recharge card dealers. These are the set of people who deliver cards to the retailers and small-scale entities.
As the number of mobile phone users is increasing in Nigeria, recharge card business keeps expanding in the streets more and more daily. As we know, people cannot do without calling and sending text messages daily. This has made the recharge card business the choice of so many people and a good means of earning.
If you're planning to start the recharge card business in Nigeria, the following tips may help:
Provide the minimum capital required
Find a promising location for the business
Outreach to strategic locations
Sell at the control prices
Increase your capital as you grow sales
Connect with other recharge card sellers
Sell recharge cards for multiple mobile networks
Provide the Minimum Capital Required
When it comes to starting a recharge card business, there's no specific amount to be set aside for starting up but you cannot start with less than 10000 Naira if you really want to do the business properly from the onset.
While planning to start up, there are things you'll need to know such as the various levels at which you can operate as a seller. You can start as a retailer, a wholesaler or distributor. Some are even referred to as resellers. They simply buy in small quantities and resell to the final consumers at a token profit. They do the same over and over again until they can change their selling levels.
Gone were the days when anybody could just walk in any of the telecommunication companies and request to be a dealer with a minimum of #200000 initial capital amount. Nowadays, up to two Million Naira may be required to register as a dealer with companies like MTN, Glo, Etisalat, Airtel and Starcomms.
So, if you can't get anything near this capital amount, you won't be able to sell as a dealer, but as a retailer printing and selling recharge card vouchers. Though the profit potential may be so low, because you sell very fast, you'll be able to gather reasonable profits with time.
Find a Promising Location for the Business
One of the things you can do to make the most out of recharge card business is to find a good location for the business. Stay where you'll get access to multitude of people. By doing so, you'll sell faster than those who stay in remote areas.
Targeting a strategic location is all that the business entails for expansion to be guaranteed. Your business will expand and you'll definitely increase your capital amounts as you move on with the business.
If you're selling at such locations, your sell rate could be 5 times what it should have been if you were to sell at remote places.
Outreach to Strategic Locations
As a recharge card seller, you're not expected to stay in one place especially when you're just starting the business. You need to be everywhere, particularly, at garage areas and marketplaces. These are places where a lot of people will be met and a lot of cards could be sold in no time.
Since the shop must not be left empty, it'll be very good to get someone who can assist in outreaching so you can stay back and single-handedly manage the shop. This is equally important so that the customers who are already used to patronizing the shop may not get frustrated whenever they come around to buy cards.
Sell at the Control Prices
People usually love patronizing the card sellers who sell at control prices. For instance, if you want to buy #100 recharge cards, you may get these cards at the control price (#100 per card), whereas in other places, they'll sell to you with #10 added per card which makes it #110 per card.
Personally, I wouldn't love buying recharge cards with #10 added but would prefer to buy only where they're selling at the control price. So, to make the most out of selling recharge cards in Nigeria, you'll need to sell at the control price making yourself satisfied with the little gain you'll make by selling at #100 per card.
Increase Your Capital as You Grow Sales
The moment you start making lots of sales, be ready to increase your capital to ensure that you increase profits with time. I knew about a woman who started with a very low capital amount a couple of years ago but has now been able to operate at a very high level. She's been working towards becoming a dealer for MTN now.
It's normal in business to break even first after some weeks of starting up while you'll need to increase the capital amount later as you sell more.
Connect with Other Recharge Card Sellers
In every business, it's good to create connections with other people who also deal in similar businesses. You'll simply do this purposely to get helpful information from others. And this will benefit your business a lot.
Building bonds with business-related fellows can bring you exposure up to a level you may not expect.
Sell Recharge Cards for Multiple Mobile Networks
In Nigeria, we have the numerous mobile networks such as MTN, Etisalat, Glo, Stacomms, Airtel and others. The most-commonly used networks are MTN, Glo, Etisalat, and Airtel. Since people will always ask for cards in each of these networks as well as buy data plans/bundles at all times, it's worth making all of these available to your customers.
When customers know that they will always find what they're looking for at your shop, they won't hesitate to return to your shop always before buying cards and data plans.