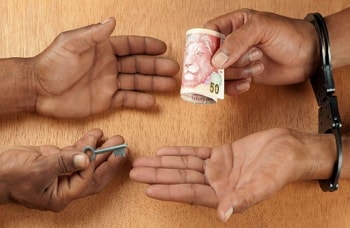 By Gbenga Adebambo
In the midst of the avalanche of problems that have beleaguered the nation, corruption stands out tall. It has been a protracted problem that has consistently smeared the image of Nigeria and many times portrays the nation as a failed state. The headlines are always screaming about corruption in Nigeria: Nigerian Police rated the most corrupt in the world; Transparency International rates Nigeria low on corruption Index; Corruption getting worse in Nigeria, and so on.
Global anti-corruption watchdog, Transparency International (TI), has again ranked Nigeria low in its 2017 Corruption Perception Index (CPI) released in February, 2018. The latest ranking has Nigeria in the 148th position out of 180. The most recent report by the World Internal Security and Police Index (WISPI) and the International Police Science Association (IPSA) rated the Nigerian Police as the worst in the world. Nigeria performed worst on the Index, followed by the Democratic Republic of the Congo, Kenya, Uganda, and Pakistan. The already-sullied reputation of Africa's largest police force – Nigerian Police Force (NPF) – was further soiled as the Nigerian Police came out as the most corrupt in the ranking that involved 127 countries.
Chinese President Xi Jinping has made fighting official corruption a cornerstone of his reign. Judging by the numbers alone, the campaign has achieved impressive results. Astonishingly, the Chinese Communist Party (CCP) has disciplined well over one million officials since Xi took power in 2012! China's judicial authorities have said that the death penalty will be applied to anyone embezzling or taking bribes to the tune of three million yuan ($463,000; 409,700 euros) or more. The Chinese government believes that corruption is a higher form of murder and has decided to treat it as such.
Just recently, about two weeks ago, Zhang Zhongsheng, former vice mayor of Lyuliang City in north China's Shanxi Province, was sentenced to death on Wednesday for taking bribes. According to the Intermediate People's Court of Linfen in Shanxi Province, Zhang received bribes in cash and property worth a total of 1.04 billion yuan (165 million US dollars) from 1997 to 2013. Apart from being sentenced to death, Zhang has also been deprived of all his political rights for life, and all of his properties are forfeited.
Until we treat corruption the same way we treat murder, we may not have a headway in dealing with it. For every act of corruption, something dies in the nation. Corruption kills vision; it strangulates people with ideas; it makes the environment so stifling for development; it hinders the progressives; it terminates opportunities that are meant for the youths. Real 'murder' happens when people are cut off from lifesaving and empowering opportunities. The child beggars that didn't have access to education yesterday will ultimately become a nuisance to the environment today.
A corrupt leader can murder a whole generation. Many youths are impoverished today just because corruption cut them off from accessing opportunities. We need to understand that every act of corruption takes the life out of others! The child beggars in the North, the epileptic power situation in the country, the embarrassing youth unemployment rate, the potholes on the Nigerian roads are all fallouts of a corrupt system. Corruption has increase the fiscal gap between political office holders and the masses.
A nation where the Police feels entitled to take bribes, a nation where the Custom has increase the porosity of our borders, ours is a nation where the ordinary citizens are unsecured under the covering of security agencies! Every day, we hear reports about malpractices in high places, people collecting bribes with careless abandonment, Civil servants expecting pensioners to give them money before they perform their duties. Apart from applying very stringent measures to tackle corruption, there are still other things to learn from the Chinese approach against corruption:
HOLDING LEADERS ACCOUNTABLE: Edmund Burke said, "All that is necessary for the triumph of evil is for good men to do nothing". The focus of the youths at present should be to hold their leaders accountable. There are so many leakages in the Nigerian system. Until we hold leaders accountable for the money allocated to them, then the fight against corruption is just like a smokescreen. How do our governors spend their security votes? How do the members of the National Assembly spend their constituency allowances? From the councilors at the local government level to the lawmakers at the State and Federal levels, to the Governors and to the Presidency, we must hold all of them accountable. Socio-Economic Rights and Accountability Project (SERAP) has always been at the fore front as accountability watch-dog for the nation and this is really commendable. It released a special report, titled "Stealing the future: How federal universities in Nigeria have been stripped apart by corruption." The report uncovers how allegations of corruption in federal universities are neither thoroughly investigated nor culprits punished. SERAP has exposed how corruption in the university system has negatively affected the governance of federal universities and the quality of education received by the students. Nigerians have the right to know more about the way tax payers' money is being spent. We must make our leaders accountable.
RESTRUCTURING:  John F. Kennedy once said, "Those who make peaceful revolution impossible will make violent revolution inevitable." This peaceful revolution is the restructuring of the nation. It is very obvious that something is inherently wrong in our structures and institutions. We must begin to see that injustice is only a symptom and an opportunity to design new models of governance. Frank Zappa once said, "Without deviation from the norm, progress is not possible". The structures presently on ground encourage corruption. The Nigerian system is not a justice system; it is just a system and requires total overhauling.
SEEING MONEY AS A REWARD AND NOT AS AN ENTITLEMENT:  Horace Greely said, "The darkest hour in any man's life is when he sits down to plan how to get money without earning it." Corruption will fizzle out gradually when people see money as a reward for the problems that they are solving and not as something they are entitled to simply because of their political office. A leader that is unable to solve problems is a liability to the system. Aliko Dangote, the richest man in Africa said, "Every morning when I wake up, I make up my mind to solve as many problems, before returning home".
YOUTH ARISE: I have often said that the wealth of corrupt leaders is the ignorance of the youths. Kurt Cobain said, "The duty of youth is to challenge corruption." There is one thing that youths have in common in Nigeria and it is the fact that we are at the receiving end of a corrupt system. If there is one thing that should unite the youths across all the geo-political zones, it should be our unified fight against corruption. The youths should brace up to challenge the scourge of corruption. If this nation will be rescued from institutionalized corruption, then the youth must rise up to challenge the status quo. We are pivotal to the new order and a new Nigeria. The youths are a deciding factor in the war against corruption, and we must vigorously but not violently challenge the status quo. An incorruptible youth is an asset to the future. Politics and policy-making are still in the archaic stage; youths need to be involved for it to evolve. We must not be tools in the hands of clueless politicians. We are dynamites of change. We must bluntly refuse to be held back by overbearing political class and principalities. The youths must not allow themselves to be used to act in the enemy's script.
EXTRAVAGANT SPENDING: The problem of extravagant spending has become a norm and an integral part of our culture. Nigeria's democracy is surely one of the most expensive to run. The jumbo allowance of public office holders and Nigerian legislators is obviously unsustainable, profligate and wasteful. José Alberto "Pepe" Mujica Cordano is a Uruguayan politician who served as the 40th President of Uruguay from 2010 to 2015. Nick named the 'Pauper President' for his frugality in handling public funds. Jose Mujica gave 90% of his monthly salary to the poor when he was at the helms of affair, giving him the label 'The World's Poorest President'. He also shunned the luxurious house that the Uruguayan State provides for its leaders and chose to stay at his wife's farmhouse, off a dirt road outside the capital, Montevideo, where they grow flowers. "I'm called 'the poorest president, but I don't feel poor. Poor people are those who only work to try to keep an expensive lifestyle, and always want more and more," he once said.
We have become victims of our spending styles, and such extravagant spending style is a reflection of lack of financial intelligence and inner misery. It is pathetic in today's Nigeria that impulsive and senseless spending pattern has crippled many lives, organizations and enterprises. Flagrant waste of public funds by politicians have become a commonplace in the polity. Extravagant spending among public office holders and politicians has become an 'anathema' to national growth.
REWARD SYSTEM: Corruption is actually a symptom of a valueless reward system. The reason why corruption thrives in Nigeria is because we are rewarding it. Our leaders cannot stop corruption until they stop rewarding it. The logic is very simple: what you feed thrives and what you starve dies. We are feeding corruption with our faulty reward system. When we reward the wrong people, wrong perspective will continue to thrive. There is an institutional fault in our reward system, as we have often rewarded mediocrity over excellence. This is the core reason why corruption is more prevalent in Africa. Our corrupt leaders have meticulously designed systems to reward people with no intellectual value. We need to redesign a system to reward people that are solving problems and adding values. I believe strongly that if we make necessary adjustment in our reward system and re-prioritize our values, corruption will die automatically.
Singer and civil rights activist, Charles Oputa, aka Charley Boy, called on the youth to rise up and rescue Nigeria from the hands of her corrupt and inept leaders. He urged the Nigerian youths to sit up and do something about the continued domination of the affairs of this country by a class of people who are not truly committed to its well-being. The self-styled activist lashed out heavily at corrupt leaders when he said, "These people have consistently looted our national treasury over the past decades. In fact, they have stolen so much that even the next generation of Nigerians are already impoverished."
I am encouraging the youths from the various geo-political zones – the Middle Belt youths, Yoruba/Oduduwa youths, Ohanaeze Ndigbo youths, Ijaw youths and Northern/Arewa youths – to come together and take massive action against corruption.
QUOTE: "Earth provides enough to satisfy every man's needs, but not every man's greed"-Mahatma Gandhi