Crime News
How We Lost Millions To Armed Robbers – Bureau De Change Operators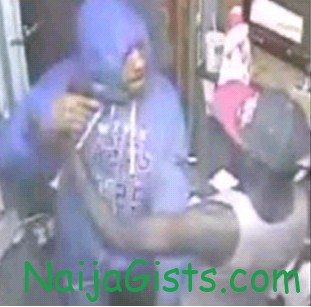 Sept 10, 2012 – How We Lost Millions To Armed Robbers – Bureau De Change Operators
The Victims of Sunday serial armed robbery operations in many parts of Lagos, southwest Nigeria, have been counting their loses running into millions of naira and thousands of foreign currencies. naijagists.com
Worst hit are bureau de change operators in Oke Koto, Agege, Lagos where 60-year old Alhaji Muktaru Muhammadu Yaya was a key operator and a victim.
Alhaji Muktaru said he lost N25 million in local currency another £153,000 (about N39 million) to the eight robbers who were armed to the teeth and stormed his office at about 10.30 a.m. yesterday.
"I was sitting in front of my shop at Oke Koto, Agege. My boy was inside. Suddenly, I saw the robbers in two SUVs. They shot into the air several times. They grabbed me, pulled me inside, and demanded for money. They had sophisticated weapons on them.
"They pointed their guns at me. Two of them also with guns ransacked my shop. They saw the two 'Ghana Must Go' bags where we kept the monies and carted them into their waiting SUVs. They confidently went into the next shop where they shot Muktaru Jubrila and Abdullahi Gaddo on the legs. Both are presently undergoing treatment at the hospital. They operated in our area without any hinderance for about 40 minutes," Alhaji Muktaru narrated.
The businessman from Kabadagin Local Government Area of Kebbi State, Nothwest Nigeria, lamented that the robbers carted away all he had laboured for in life.
"I have lost all that I laboured for.  I have three wives and 10 children. How will I survive now? When I wanted to go out later yesterday, I had to beg for N200. Please, I need assistance from well-meaning people and the Lagos state government. I pray that Allah gives me the grace to cope with the situation."
Another victim in Agege area, Mallam Garuba Mukaila, 35, said the money changers did not run away because they thought the robbers were policemen.
He said, "I was sleeping when the robbers came. While I was trying to dodge the bullets from the robbers, I fell down and my right hand was injured."
Another money changer at Agege, Alhaji Mohammed Ibrahim expressed fears that the robbers might come back, saying "we want Governor Fashola to beef up security in this area because we always face a lot of problems."
An eyewitness, Tayo Adeyeri recounted that he saw four of the victims which the robbers shot dead while others were rushed to nearby hospitals for treatment.
He added that stray bullets hit a six-year old girl and her grand mother who were watching television at their residence at 15, Alfa Nla Street, Agege.
It was learnt that the armed robbers or other gangs also struck at Ifako Gbagada, Oshodi, Mile-2 and Oba Akran Road, Ikeja, all in Lagos.
According to a source, the robbers first raided a bureau de change at Gbagada before moving to Ojodu and Ikeja. Others were believed to have launched attack on their victims at Anthony Village, Oshodi and Itire.
The robbers were confronted by a Rapid Response Squad RRS, patrol team at Guinness bus top, along Oba Akran Avenue in Ikeja in  a gun fight.
Eyewitnesses claimed that the robbers overpowered the policemen and killed three of them.
But another source said the RRS men ran into the robbers and that was how the robbers outgunned them, killing three policemen instantly before they continued their siege on the city of Lagos.
According to a source, the robbers who struck at Anthony were operating on a motorcycle. They shot some officials of the Lagos State Transport Management Agency, LASTMA who were on duty.
One of the LASTMA staff, called Sosan was shot on the legs.  He reportedly lost a lot of blood and he is presently receiving treatment in a hospital.
LASTMA spokesperson, Bola Ajao confirmed the attack on Sosan, adding that he is responding to treatment in the hospital.
The Lagos police Command Public Relations Officer, PPRO, Ngozi Braide, a Deputy Superintendent of  Police, could not be reached on phone. She did not answer all the  calls put through to her phone.
Contacted, the state Commissioner of Police, Umar Manko confirmed the robbery attacks, and the death of three policemen.
Manko advised Lagos residents to go about their normal businesses without fear because his men are on top of the situation and policemen are battle ready to secure lives and property.
While Manko said he was not sure of the death of seven other victims in different parts of Lagos during the robbery attack on Sunday. (pmreports)