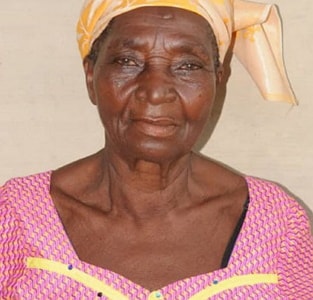 By Odunayo Ogunmola,The Nation
As the Ekiti State governorship election is 10 days away from today, frantic efforts are being made to encourage the electorate to vote for ex-Governor John Kayode Fayemi. Some are also convinced that, with their votes, the man who had his Doctorate degree in War Studies from King's College, University of London, England, and who specialised in civil-military relations, will win the election with great margin.
Among ardent believers that victory is already his on July 14, is 85-year-old woman, Madam Victoria Funke Akinyemi who has ever remained grateful to Dr Fayemi for his gesture when he was governor of Ekiti State.
The octogenarian, who rears goats from the savings that accrued from the N5, 000 stipends that she received monthly during his administration, has narrated how the monthly stipends received during the tenure of Fayemi changed her life.
Speaking with reporters in her home in Ilasa-Ekiti, Ekiti East Local Government Area of Ekiti State, the woman said she purchased a she-goat from the stipends and now rears goats on commercial basis.
Apart from selling goats to sustain herself, the octogenarian said she also feeds on the animals, even as she gives out some of the meat to others in her neighbourhood.
Describing Fayemi as her "father," Mrs. Akinyemi urged voters in Ekiti State to vote for the All Progressives Congress (APC) candidate in the July 14 election to enable them to enjoy good governance and for more aged people to be taken care of.
According to her, voters should entrust Fayemi with their votes to enjoy regular payment of workers' salaries, provision of social amenities in rural areas and other benefits enjoyed during his tenure.
She said:
"Now I sell goats. It was my father (Fayemi) that gave me the money with which I bought one goat. It was money I saved from the monthly N5, 000 allowances to the aged people received when he was governor.

"In fact, the last time he came to campaign in my community, I presented a goat to him (Fayemi) in appreciation of what he did for me and other aged people during his tenure.

"I purchased a goat from savings of my own stipends and that goat gave birth to more goats as you can see them here. I sell goats to people who need them and I also kill one from the flock any time I feel like eating goat meat.

"If not for what Fayemi did for us, I wouldn't have had the opportunity of selling goats to make money years after he had left office.

"I pray from the depth of my heart that Fayemi will win the next election. God will answer his prayers to become governor again to enable more people to benefit from the programmes he has for the state.

"I want people in my community to vote for Fayemi; they should support him to win the next election so that he will pay workers' salaries and pay stipends to the aged people again.

"We want him to return to Government House again to do those good things for the people. In fact, if it is possible, goats will vote for Fayemi."
A neighbour to Mama Akinyemi, Mr. Folarin Olaiya said:
"Mama was lucky to be selected among the aged people who obtained forms during Fayemi's administration and she was collecting N5,000 monthly."

"From the money, she was buying goats for rearing and her goats multiplied. After Fayemi left office as governor, Mama was selling her goats to sustain herself and also feed on the goats.

"We are calling on Dr. Fayemi to come and rescue Ekiti people from the suffering they are going through, including stoppage of those laudable programmes and payment of taxes by our children in their schools."