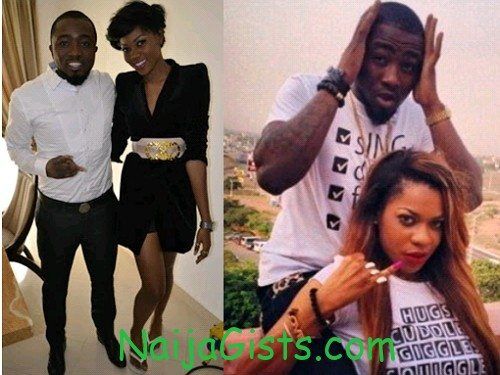 Feb 20, 2013 – Nigerian Rapper Ice Prince Now Dating Ghanaian Actress Yvonne Nelson After Breakup With Yvonne Nwosu
….. Ice Prince & Yvonne Nelson Spotted in Lekki Lagos…
"Yvonne Nwosu ‏@VonneCouture _I'm single, sexy and loving it!!! A new Ken for this Barbie… Maybe..."
The above tweet by Nigerian Fashion designer, Yvonne Nwosu is what started it all.
Last year rapper Ice Prince Zamani and Yvonne Nwosu revealed to the world that they are both dating. The lovers even tweeted the picture of themselves on the bed together. But things have taken a new twist as the rapper has found love in the heart of Ghanaian actress Yvonne Nelson.
From the moment Ice Prince featured in Yvonne Nelson's new movie "House Of Gold", love at first sight drama has kicked in.
According to sources, Yvonne Nelson is madly in love with the handsome aboki rapper and the lovers are set to rekindle their romance fire.
Ice Prince and Yvonne Nelson were spotted in Lekki Lagos on the 16th of February, 2013 at a birthday party. We learnt Nollywood actress Tonto Dikeh and former BBA star Karen Igho were also at the surprise birthday party.
To cut the long story short, the lovers were spotted holding hands as they leave the event.
"The moment Yvonne Nelson set her eyes on Ice Prince, she just couldn't let go"…..said a source
Towards the last quarter of last year, Yvonne Nelson found herself at a point where she fought with Tonto Dikeh over another Naija artiste Iyanya. The romance eventually collapsed after Iyanya dumped the two of them over media wahala.
Happy she is now in love…..
It seems Ice Prince's star is deeply connected to the name 'Yvonne' from designer Yvonne Nwosu to actress Yvonne Nelson….. Mr Aboki try o.
Join Us On Facebook @ https://www.facebook.com/naijagists for latest news updates