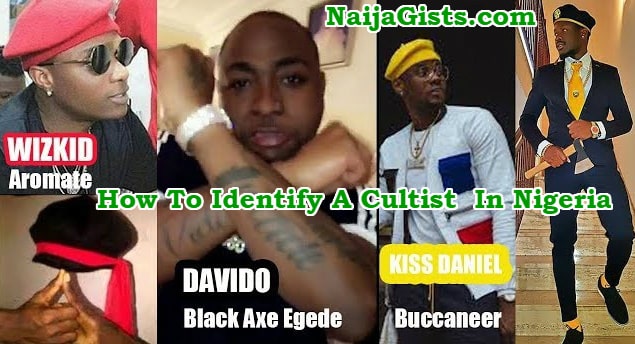 How To Identify A Cultist, Cult Members In Nigeria
How to Know If Some Is a Cult Member In Nigeria
Common Cultism  Signs And Symbols To Watch Out For
Cultists are a group of people who share similar ideas and principles usually different from the views of the general public. They come together to form an organization in which their activities are mostly shrouded in secrecy. Cultism has been in existence for quite a number of centuries its earliest appearance was in the religious sector. Its nature however has metamorphosed over the years as in modern society the word cultism brings to mind activities of mindless violence.
History Of Cultism In Nigeria
Cultism began in the Nigerian society over six decades ago in the University College Ibadan presently called the University Of Ibadan. Before the exit of colonialism from the Nigerian society, there was a presence of oppression and injustice which extended to the educational sector.
Pyrates Confraternity/National Association of Seadogs
In 1952 a group of students came together as an organization to fight against oppression and discrimination in their institution; this organization they called the National Association of Seadogs/Pyrates. This confraternity was the brain child of seven students who were referred to as the magnificent seven. Their organization was structured after the North American fraternities and sororities. They carried out their aims and objectives effectively and without violence.
This confraternity can be said to have been an agent of positive change and it remained the only one of its kind in existence for over a decade. It constituted of people of high intellect. It was not an easy group to join as it reportedly rejected quite a number of applicants for not meeting up to its high standards. Its colors are yellow, red, and black as can be seen on the official symbols of the confraternity which is made up of an anchor, two crossed bones and a skull.
Nobel Laureate Professor Wole Soyinka is a member of this cult.
Popular Cults, Symbols And Colors
The Supreme Eiye Confraternity/ The National Association of Air Lords
This cults was also established in the University of Ibadan in 1965 it was originally referred as the Eiye Secret Society. It was set up by quite a number of people some which include: Goke Adeniji, Bode Sowunmi, Kayode Oke, Tunde Aluko and others. They were all about being agents of discipline and development; mentally, physically, socio-politically and culturally.
However over time, the confraternity lost the purpose for its existence. It has extended beyond the walls of universities as it has a street gang as well. It is presently one of the most deadly confraternities in Nigeria whose names repeatedly come up in reports of cult clashes. The cult has three main colors: red, yellow and blue.
The symbol of this cult is a skull and two crossed bones. They use slangs like cage birds to describe fearful members, agba which refers to guns, jojo which means gyration music and also mit which is an abbreviation for their meeting/initiation point. Ibaka is used to refer to their and spiritual head, ostrich is the second in command.
Black Axe Confraternity/ Aye-Axemen
Created to be a movement for the freedom of the black man, this group was formed in the University of Benin in 1976 by some young men reportedly foreigners. This was yet another cult set up with the intent of liberating the blacks from oppression.
The same cannot be said for their current activities as they have strayed from all good intent. Their sayings include: mercy is for the weak, dogs must eat dogs, the strong embrace death, death with an axe and much more. They use slangs like: Janet which means punishment ju is used for people who are not cult members. Their colors are black, white and yellow.
Davido is said to be a member of this dreaded cult.
Supreme Vikings Confraternity/ De Norsemen Club
The cult was formed by former members of the buccaneer confraternity. It was created in 1982 at University of Port Harcourt. Members are referred to with terms like Aro mates and vultures.
Nollywood actor Victor Osuagwu and other popular celebrities belong to this cult.
Black Bra Confraternity: Deadly 
All Female 
 Cult Group In Nigeria
This is an All-female cult group also very ruthless and deadly. Female cult groups operate with the backing of male confraternity. This cult operates under the Supreme Eiye confraternity. They have markings on the bodies in form of tattoos or cult scars from injuries given during initiation.
Mercy Aigbe and other popular Nollywood celebrities are members of this cult. Most women join this cult for protection. The women in this cult are mostly widows and divorcees looking for extra protection from the dark world which they end up not getting.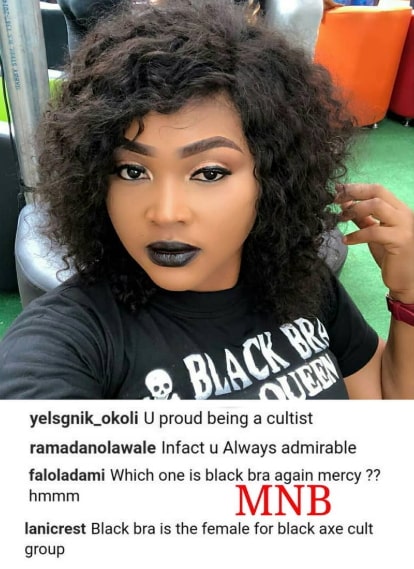 Daughters of Jezebel All Female Confraternity In Nigeria
Yet another All-female confraternity, their rules of operation is also similar to that of the male cults. They claim to be about protecting females from oppression this is however yet to be seen.
Other male and female confraternities include: the sons of ciaos/mafia, Dedy Na Debt, Eternal fraternal order of the legion consortium, viqueens, Pink Ladies and a lot more.
Causes And Effects Of Cultism: Why Nigerian Youths Joining Cult Groups
Despite the enlightenment and warning given to youths on hazard of cultism, we still find misled youths becoming a part of cultist groups. Here are some of the reasons why people within and outside the universities become cultists:
Illiteracy and Lack of Proper Education: As we know, cultism has moved way beyond the walls of the Universities. We often find individuals on the streets belonging to one cult group or the other. These cults are the street wings of those located in the university and they are much worse than those within the university system. These uneducated street individuals are much easier to convince and mislead as they lack the proper understanding on the destructive power of these groups.
Poverty: Majority of these cult groups promise help and a better future to its members because they are affiliated with the wealthy and powerful people of society. Therefore some take this option as their way out of poverty.
Power: In the bid to be feared and respected some individuals feel the need to become part of these groups. Their quest for power and revenge leads them down this path.
Poor State of the Economy: Countries lacking in the economic sector are often prone to cultist's activities as a result of the lack of provision of the basic facilities. Nigeria is one of such countries. As a result of the impoverished state of the country some individuals take cultism as a way out.
Consequences Of Cultism
Loss of Lives and Property: During cult clashes and activities, lives of members and innocent individuals are lost in the process. Properties are destroyed both within the university and out of it.
Lack of Security: The knowledge that cult activities loom in the shadows creates fear in the heart of individuals and creates an environment of insecurity.
Frequent Closure of Schools: Frequent cult clashes and violent activities in universities sometimes lead to closure of schools for the safety of the students and lecturers. This closure often tampers with the academic calendar of the school and could eventually lead to a fall in the standard of education.
Promote Crime: Cults have been known to repeatedly take lives ruthlessly and without mercy this leads to the loss of conscience and value for the life of others, they abuse power and are not afraid to participate in criminal and violent activities in society.
How Do You Know Someone Is a Cultist?.
There are ways to find out if an individual belongs to a cult or not this can be done simply by observation
Language
Every confraternity has different and unique slangs they use to communicate with each other. Watch out for strange sounding languages amongst individuals this is a sure way to find out if someone is affiliated with a cult.
Mode of Dressing
Most cults have selected colors and unique ways of appearing in public. Usually they are known to fly their colors in subtle ways in their everyday dressing (hand bands, wristwatches, handkerchiefs). They use colors like white, black, red, yellow and the likes.
Unexplained Disappearance
Due to activities of these cult groups, they could disappear for a day or two to carry out assignments without any concrete explanation for their where about. This could be another pointer.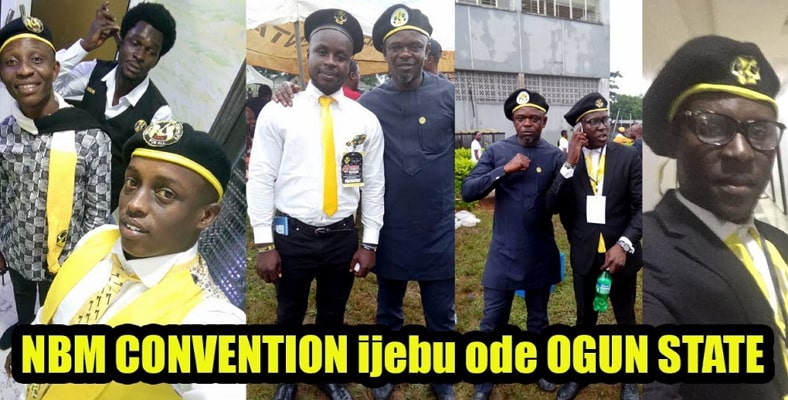 Cultism Greetings And Handshakes
Watch out for modes of greeting like weird handshakes and expressions when they greet people around them. Their greeting ritual sometimes gives them away.
Markings and Tattoos
Cult members carry a physical symbol of their membership like tattoos, burn marks and sometimes even scars. There are given during initiation ceremonies.
Clique of Friends
Cults hardly ever move alone, they consider themselves members of a brotherhood. Therefore they often move in groups. Be mindful of such individuals and their cliques.
Code/ Nicknames
When initiated, cults are given code names and identities and fellow cult members refer to them by this name. Their names mostly reflect their confraternity and their duties.
Identification of cult members is not limited to these ways alone but this could definitely go a long way in helping you watch out for such individuals and stay safe.
The presence of cultism in schools and the society has caused quite a lot of problem for members and non members. Not much effort has been put into curbing this virus as the number of cult groups and cultists seems to rise each day.
Awareness programs could be created by government their focus being teenagers and youths to educate them on the true nature of these gangs and why they should be avoided.
Parents could also invest time and effort in the lives of their wards to properly inculcate them with good values and the importance of not associating with such groups.
https://www.youtube.com/watch?v=gzC9oymdPt0
Visit NaijaGists.com for more
---
Copyright © NaijaGists.com
All rights reserved. This material may not be reproduced, published, broadcast or redistributed in whole or in part without prior express written permission from NaijaGists.com. Contact: naijagistnews@gmail.com.