Crime News
Ikere Ekiti Herbalist Who Died Of Magun After Sleeping With Pastor's Wife Identified!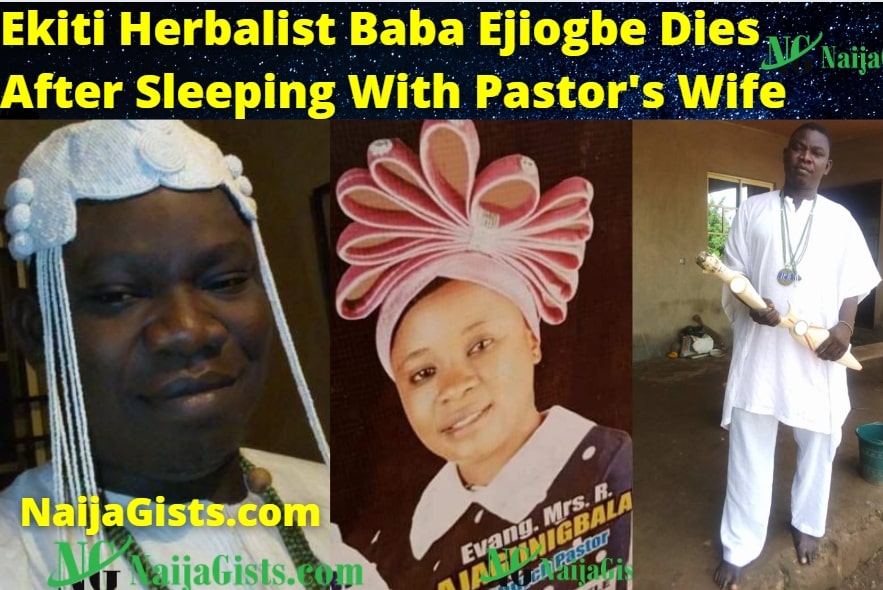 Ikere Ekiti Herbalist Dies Of Magun After Sleeping With White Garment Church Pastor's Wife
A  juju man in Ikere Ekiti has died.
The very popular and powerful herbalist identified as Fadayomi Kehinde aka Baba Ejiogbe died yesterday in a hotel in Ikere Ekiti Ekiti state.
According to eyewitnesses, the herbalist lodged in the same hotel room with a woman identified as Pastor Mrs Rita Ajagunigbala, the wife of a popular white garment church pastor, Oluso.
Unknown to him, Pastor Mrs Rita who has reportedly cheated on her husband severally has been laced with Magun charm (A form of thunderbolt charm).
Baba Ejiogbe reportedly slumped and died after he slept with Pastor Mrs Rita at an undisclosed hotel located in Ikere Ekiti Ekiti state on Monday the 2nd of January 2023.
Before his untimely death, the herbalist was married to a woman named Shade Fadayomi.
It was gathered that the hotel staff and some associates of the herbalist rushed him to a hospital where he was confirmed dead.
Associates of the late native doctor were alleged to have attributed his death to "magun", a local charm placed on married women by their husbands to harm lovers who sleep with them.
The aggrieved supporters of the late herbalist were said to have stormed the church where the husband of the lady is the shepherd and vandalized it in anger.
The married woman has reportedly been arrested and is being held in protective custody to facilitate an investigation and also to protect her from the angry youths.
The corpse of the deceased herbalist is currently at the Ekiti State Specialist Hospital morgue in Ikere.
His family members have been contacted to retrieve his body for burial.