Hot Gists
Jerry Okosun Is Not A Son To Late Evangelist Sunny Okosun – Cousin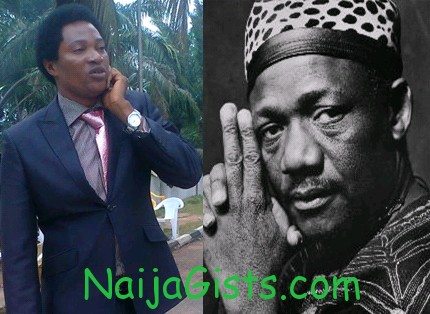 Jan 16, 2013 – Imo State DG Of Student Affairs, Jerry Is Not A Son To Late Evangelist Sonny Okosun – Cousin
In response to an article Naijagists shared on one Mr Jerry Okosun, the current Director General Of Imo State Student affairs who was arrested in connection to the kidnap of actress Nkiru Sylvanus, a man who claimed to be the cousin of late Nigerian evangelist Sunny Okosun has debunked the claim that Jerry is a son to Sunny Okosun.
According to Mr GABRIEL OKORUWA OMONHINMIN, Jerry actually adopted the name because of the good deeds of the late evangelist towards him.
Here is a detail message from Gabriel:
DISCLAIMANT: JERRY IS NOT A SON, TO THE LATE
EVANGELIST SUNNY OKOSUN
A story making the rounds in the Print, Electronic and the Social Media of late has been brought to the attention of the family of the late Evangelist Sunny Okosun.
According to the story, "one of the son's of the late musical icon Sunny Okosun has been released from jail after being arrested over his alleged involvement in the kidnap of Nkiru Sylvanus and Kenneth Okolie.
Jerry Okosun, who also works for the Imo State government as Director General of Student Affairs, was released January 5th after spending 11 days in police cell in Owerri with other suspected kidnappers.
In view of the great harm done by this story to the hard earn reputation of the last musician, we are constrain to make the following clarification.
1) The so called Jerry Okosun is not a son to the late musician. They are not related at all.
2) The late Evangelist Sunny Okosun before his death on May 24th 2008 had four biological children. They are as follows- Sidney Okosun eldest son, Ebony his first daughter, Michael his second son while Adesuwa a girl was his last child.
A fact that must not be denied however that Jerry is a known face in the Okosun's family. He is an Igbo man from Imo State. He was one of the pastors in the late musician's church known as House of Prayer Ministry before his death. The late musical maestro in a deliberate effort to ensure that Jerry lived a good, responsible and purposeful life, married him a wife, send him and his now estrange wife to France. Jerry was later deported for sharp practices.
Jerry however, claimed to be adopting the late musician's surname name because of his goodwill towards him, while he was alive.
This statement is therefore issued as a warning to the general public, not to do any business with Jerry in the name of the late Evangelist Sunny Okosun.
Signed
GABRIEL OKORUWA OMONHINMIN
COUSIN TO THE LATE EVANGELIST SUNNY OKOSUN
16th January, 2013.