Crime News
Photos: Indian Gypsy Couple, Daredevil Travel Bloggers Taking Selfie Fall To Death At Yosemite National Park California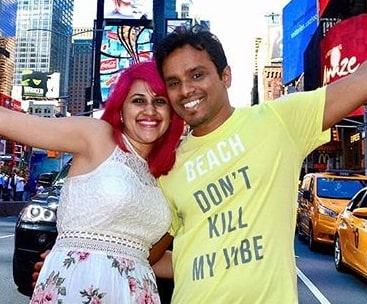 Photos: Indian Gypsy Couple, Daredevil Travel Bloggers Taking Selfie Fall To Death At Yosemite National Park California
RIP Meenakshi Moorthy And Vishnu Viswanath
A married couple who fell to their deaths in Yosemite National Park posted about their lives being 'worth just one photo' months before they fell from an 800-foot cliff.

Travel bloggers Vishnu Viswanath, 29, and 30-year old Meenakshi Moorthy died on October 24 after plunging from Taft Point, a granite ledge in the hugely popular California beauty spot.

Their bodies were recovered by park rangers the following morning after tourists spotted an abandoned camera on the unfenced cliff edge and alerted authorities.

Vishnu and Meenakshi, who were both citizens of India and had been living in the United States, ran an Instagram account called 'Holidays and Happily Ever Afters'.

They frequently uploaded pictures of their travels.

One post, from a trip to the Grand Canyon, was captioned: "A lot of us including yours truly is a fan of daredevilry attempts of standing at the edge of cliffs and skyscrapers, but did you know that wind gusts can be FATAL???

The couple died days after another pair's stunning proposal photo from the same location went viral.