Crime News
ISIS Gunman Kills 2, Injures 13 In Danforth Toronto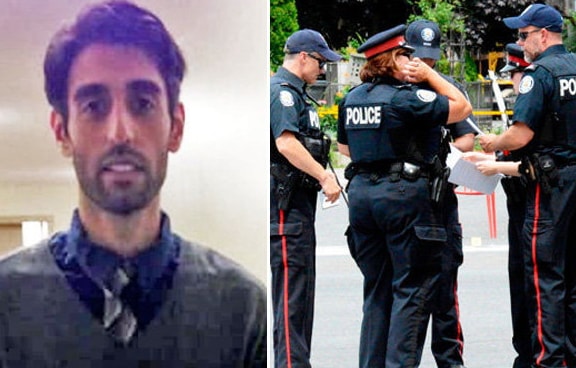 The Islamic state militant group has claimed responsibility for a shooting in Toronto on Sunday that killed two people and wounded 13, the group's AMAQ news agency said on Wednesday.

The attacker "was a soldier of the Islamic State and carried out the attack in response to calls to target the citizens of the coalition countries," a statement by the group said.

The group did not provide further detail or evidence for its claim.

NAN reports that Canadian officials identified the suspect in Sunday's deadly shooting in Toronto as Faisal Hussain, 29.

The Ontario Special Investigations Unit (SIU) said it was releasing his name due "to the exceptional circumstances of this tragic incident".

A 10-year-old girl and an 18-year-old woman died after a gunman opened fire on a busy avenue in Canada's largest city.

Thirteen others were injured in the rampage in Canada's largest city.

The SIU, which looks into incidents involving police which result in death, said a post-mortem examination on the suspected shooter is scheduled for Tuesday.

According to the SIU, the gunman was tracked by officers to Bowden Street during the shooting, which happened on Sunday evening shortly after 2 a.m. on Monday.

"An exchange of gunfire" then took place, before the man fled once more. He was found dead about 100m (328ft) away on Danforth Avenue.

In a statement released to various media outlets, Hussain's family expressed their "deepest condolences" to the victims and their families for what they called "our son's horrific actions". ​

They said their son suffered from serious mental health challenges and had struggled with untreatable psychosis and depression most of his life.

"Our hearts are in pieces for the victims and for our city as we all come to grips with this terrible tragedy," they said.

The first victim to be identified was Reese Fallon, 18.
Local member of Parliament, Nathaniel Erskine-Smith, confirmed that she was one of the two killed in the shooting.
Mr Erskine Smith told media that the family was "devastated" and was asking for privacy at this time.
"She was a local young Liberal, smart, passionate and full of energy," the Liberal MP told the BBC in a statement.
"It is a huge loss."
Ms Fallon was a recent high school graduate and, in a statement, the Toronto District School Board said they were "heartbroken" by the news.
The school board said she "was highly regarded by staff and loved by her friends".
According to her Facebook profile, she was about to begin studying at McMaster University.
On Tuesday, police released the identity of the 10-year-old victim: Julianna Kozis of Markham.
Emergency services were called out just after 22:00 (02:00 GMT Monday) to the Greektown district of Toronto, a busy avenue known for its restaurants and summertime patios.
Witnesses described hearing volleys of shots as people tried to run from the gunfire.
Police say eight women and seven men were shot, ranging in age from 10 to 59.
[NAN]