Crime News
Israeli Muslims Join Anti-American Movement Over Innocence of Muslims Movie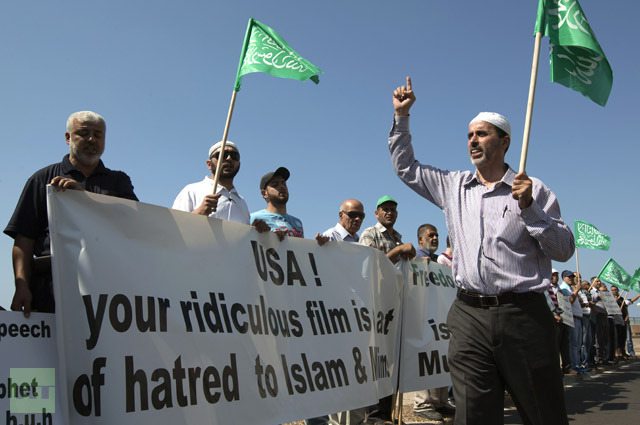 Sept 15, 2012 – Israeli Muslims Join Anti-American Movement Over Innocence of Muslims Movie
Thousands of Israeli Arabs (Muslims) today joined the protest America over a controversial movie titled 'Innocence Of Muslims' that sparked violent demonstrations throughout the world, police said. naijagists.com
In chat with AFP, Luba Samri said over 150 Muslims held a demonstration in east Jerusalem "almost without incident" with one protester arrested for causing a disturbance in the vicinity of a US consulate building.
She said about 100 people demonstrated peacefully in Nazareth, Israel's largest city, and around 250 protested in other towns, villages and at road junctions.
Sept Israeli news website Y-net said the rallies were called by the country's Islamic Movement and that marchers chanted "With our blood and with our spirit we will sacrifice for you Mohammed."
A low-budget film produced in the United States, "Innocence of Muslims," incited a wave of bloody anti-American violence in Libya, Egypt, Sudan, Yemen and in several other countries across the Muslim world.
The film, in which actors have strong American accents, portrays Muslims as immoral and gratuitously violent. It also pokes fun at the Prophet Mohammed and touches on themes of paedophilia and homosexuality.
On Friday thousands of Palestinians protested in the Gaza Strip and hundreds in Israeli-annexed east Jerusalem, where there were clashes with Israeli police.
On Thursday around 60 Israeli Arabs took part in an Islamic Movement protest outside the US embassy in Tel Aviv.
The Israeli Arab community has its roots in the 160,000 Palestinians who stayed on their lands after the creation of Israel in 1948 and today numbers 1.6 million, 20 percent of the Israeli population.(AFP)