Nollywood
Jide Kosoko Visits Hometown Of Ilugun, Abeokuta Ogun State, Says Egba People Are Friendly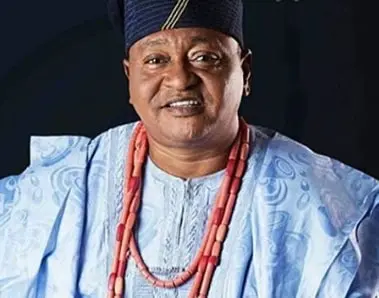 See excerpt of legendary Nollywood actor Jide Kosoko's recent chat with Punch NG's report Tofarati Ige on his visit to his hometown of Ilugun in Abeokuta North, Ogun state.
Where is the most interesting place you have visited recently?

I have been to a lot of wonderful places around the country, but the most recent memory was last year during one of the festive periods. I was in my hometown of Ilugun, Abeokuta, where I had a good taste of so many things. I really enjoyed myself. I ate the type of food that my mother used to give me in those days called Isapa and konkor, and I washed it down with good palm wine. The place is very close to Olumo Rock; so, there were lots of activities that we took part in. We really had fun and it is a trip I would recommend to anyone who wants to have a lovely time with nature. It is just unfortunate that this year, I wouldn't be able to go back there because I would be busy promoting some of my movies.

What would any first-time visitor find most striking about Olumo Rock?

It is a historical rock that has a lot of significance. Visitors to the place would be able to see the exact spot where Yoruba warriors of those ancient times used to enter in times of war, as well as the chains that dropped from their bodies, and other monuments. It is a place that is very scenic and welcoming to guests.

Are the people friendly towards guests?

Of course, Egba people are very hospitable and everybody is made to feel welcome.

Are you satisfied with the level of development around that area?

Not at all! There are lots of things that need to be put in place to make the place more conducive for guests.

What activities can visitors engage in on Olumo Rock?

There are a lot of interesting things one can see and do there. There are many traditional masqueraders around the place, and many other games are available.
What foods are peculiar to Abeokuta?
There are a lot of good foods in Abeokuta, but the most popular one is lafun (cassava flour) and ewedu.
How sociable are Egba people?
As a matter of fact, civilisation in this part of the country started from Abeokuta. The people are very exposed and educated. They have produced lots of prominent people in this country including Wole Soyinka, Olusegun Obasanjo, Fela Anikulapo Kuti, among others.
What kind of language do they speak and how easy is it for visitors to understand them?
The people speak Egba dialect of Yoruba language, but it is quite easy for visitors to understand them. However, if they don't want you to know what they're talking about, they would speak in a way that you wouldn't understand.
Which other places would you recommend for a visitor to go?
There are lots of interesting places in Abeokuta like the Ebute Oni Tourist Beach Resort, Lisabi Sacred Forest, Omo Forest Reserve, among others.
What are some of the innovations you would love to see at Olumo Rock?
I think that is the government's responsibility. The onus falls on them to take care of the place and put in place several amenities that would enhance its beauty. Even though we don't have to tamper with its originality, there are still lots of creative ways we can beautify the place. For example, we can have modern hotels built around the rock where people can lodge, so they can spend as much time as they want there. The government just talks about tourism, but the level of commitment is not strong enough. All our monuments and historical sites should be properly taken care of so that they can be of international standards. We go to other places and we see how things are done there. Nigeria can also be like that; if only we have the willpower to do the right things. Many people all around the world are looking for wonderful places where they can relax and spend time with nature. Luckily for us, Nigeria has spots like that in abundance. If we can harness these resources properly, we could make more money from tourism than even oil.
Have you ever climbed Olumo Rock?
Yes; I have done that on a couple of occasions.
How would you describe the experience?
It is a beautiful experience. It's similar to going to the Erin-Ijesha Waterfalls in Osun State.