Hot Gists
Mercy Johnson Latest News, Movies, Net Worth, Marriage, Family Background & Other Interesting Facts
Mercy Johnson: Biography, Life, Marriage, Latest News, Husband, Family Background And Many More
Mercy Johnson is a multiple award-winning Nollywood actress, who started her acting career about 15 years ago. She has starred in about 100 movies, so far, in her career, making her one of the veteran and highest paid actresses in the Nollywood today. We are going to be taking you through her biography, family, marriage, latest news about this outstanding woman.
The star actress, whose full name is Mercy Ozioma Okojie, is a native of Okene, Kogi State but was born in Lagos, South west Nigeria. She was born 34 years ago (August 24, 1984). Mercy grew up in the midst of 6 siblings, alongside her mum and dad.
Her educational adventure took her around the country, as she had to move alongside her father, who was an officer in the Nigerian Navy. She started her basic education in Calabar, Cross River state and later moved with her father back to Lagos, where she eventually completed her basic education. She completed her secondary education in Rivers state.
Mercy has a keen passion for acting, hence, shortly after her secondary education, she auditioned for a movie role, in 2004, in a movie titled The Maid. She has been active in the Nigerian movie arena ever since; numbering up to 15 years. Within this period, she has featured in numerous Nollywood movies and in the process, winning many top awards.
In 2017, she was given a political appointment and duly assumed office in her home state of Kogi. She was appointed Special Assistant on Entertainment, Arts and Culture, to the Governor of Kogi state, Yahaya Bello.
Mercy Johnson Latest News
About 12 hours ago, at the early hours of Saturday, 29th September, 2018, the National Chairman of the All Progressive Congress (APC) was petitioned over the political ambition of Mercy Johnson's husband, Okojie Odianosen. Okojie recently announced his ambition to run for a seat at the House of Representatives in Abuja. The petition is requesting Okojie's clearance and nomination to be stalled by the Chairman, Adams Oshiomole. Full details of this news is available at On NaijaGists.com.
In another development, Mercy Johnson, who is known for her plumpy stature has shed off some weight. She posted a new picture of herself on Friday, September 28, 2018, where she displayed her slimmer and sexier body.
Mercy Johnson Mother
The beautiful woman that gave birth to this stunning actress is, unfortunately, late. She died in May 2018 after a brief illness and was buried a month later in June. Mercy's mother goes by the name Elizabeth Johnson (late).
Her mother's burial which held in June, earlier this year was graced by many top dignitaries and many of her colleagues in the Nollywood. It was, indeed, a sad day in the sphere of Nigerian entertainment.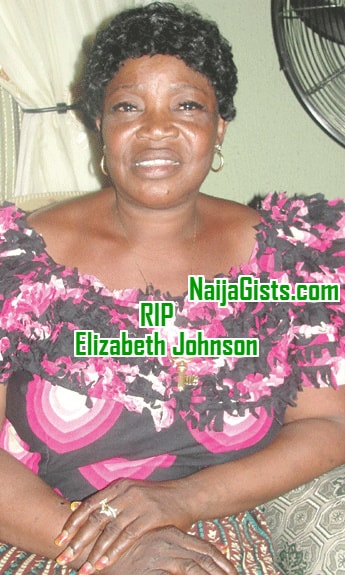 Mercy Johnson Family
Mercy Ozioma Johnson-Okojie is happily married with kids. She is married to Prince Odianosen Okojie. They got married 7 years ago and their union is blessed with 3 lovely kids; two girls and a boy.
The first born, Purity was born barely a year into Mercy's marriage in December, 2012. The second born (her only son), Henry was born two years later in October, 2014 and the baby of the house, Angel was born in December, 2016. Mercy has revealed she's not done procreating just yet. According to her, she's ready to have her 4th kid soon. Her family is one happy family.
Mercy Johnson Husband
The husband of the Nollywood star actress goes by the name Prince Odianosen Okojie, a Prince from Edo state. The actress got married to Odianosen in 2011 and their marriage is blessed with 3 kids.
The couple had their traditional wedding in Lagos on August 26, 2011. The traditional wedding was followed by the white wedding some days later and the lavish event was held at Christ Embassy in Ikeja Lagos. The event was graced by many top personalities across the country.
Mercy Johnson's husband, Odianosen has had one failed marriage before her marriage to Mercy. In his previous marriage, he had 2 kids with his ex-wife, Loveth Okojie.
According to recent reports, Mercy Johnson's hubby is pursuing a political office under the platform of the All Progressive Congress (APC). He is aspiring for the constituency seat of Esan North East and South East, Edo state (his home constituency/state) at the House of representative, in the upcoming 2019 general elections. As a loyal wife, Mercy has pledged her full support for her husband.
Is Mercy Johnson Dead?
Some time last year, there were rumours flying around concerning the whereabouts of the star actress. Some naysayers even went as far saying she was dead. The rumours borne out of the absence of Mercy Johnson from the big screen for some time. However, the lady is back and has featured in some top Hollywood movies this year. Hence, there is no iota of truth in the rumours. The star actress is alive and doing well, alongside her family.
Mercy Johnson Movies
Mercy Johnson is arguably one of the most successful actresses in the Nollywood today. She is well celebrated and decorated with an intimidating profile. She started her acting career in 2004; in her debut feature in a movie titled, The Maid. Her excellent performance in the movie, eventually set her up for an illustrious career in the Nollywood.
It took Mercy Johnson only 5 years in the industry, before she starts winning Nollywood top awards. She won the Best Supporting Actress at the AMAA 2009. The highlight of her award-filled career came in 2013, when she won the African Magic Viewers Choice Award (AMVCA) for the Best Actress of the year. The award was in honour of her Lead role in Dumebi the Dirty Girl.
Mercy has featured in close to one hundred movies during her 14-year illustrious career in the Nigerian movie arena. Below is a compilation of some of her top movies.
Against My Destiny (2018)
Mrs Trouble (2018)
16th Anniversary (2016)
10 Days in Sun City (2016)
Thy Will Be Done (2015)
The Light Will Come (2015)
Hustlers (2014)
Bloody Ring (2014)
Dumebi The Dirty Girl (2013)
The Enemy I See (2013)
My World (2012)
Heart of a Fighter (2011)
Beyond Desire (2009)
Entanglement (2009)
Royal Tears (2009)
Tears of Hope (2009)
Don't Wanna Be a Player (2008)
Sin No More (2008)
Temple of Justice (2007)
Lost to Lust (2005)
Women in Power (2005)
The Maid (2014)
Mercy Johnson is one of the highest paid actresses in the Nollywood today. She also holds a political office in her home state, as a Senior Special Assistant to the Kogi State Governor, Yahya Bello. Furthermore, she has numerous endorsement deals which rakes in millions of Naira for her.
According to estimates, Mercy Johnson is worth in the region of $2 million.