Nollywood
Nollywood Actress Keira Hewatch Talks About Missionary Father & The Strong Single Mother Who Raised Her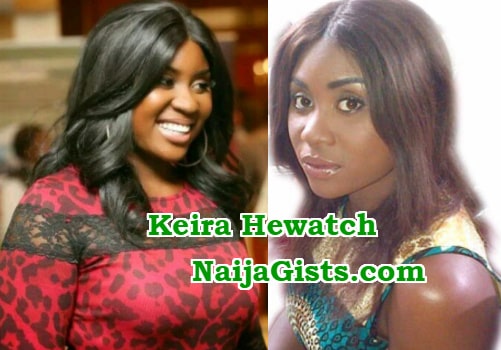 Nigerian Actress Keira Hewatch Talks About Missionary Dad & The Strong Single Mom Who Raised Her
Meet Keira Hewatch, a multi talented and award winning actress from Cross River State.
She is best known for her role as 'Peace Nwosu' in the television series, 'Lekki Wives' and 'Two Brides and a Baby,' where she won the Best of Nollywood Award for Best Breakout performance in a leading role.
In this chat with Vanessa Okwara of Sunday Telegraph, Hewatch talks about her rise to stardom and the kind of man she finds attractive.
Enjoy the interview excerpts below
How did your journey in the industry start?

I started acting in Ghana in 2006. It was a small production that never made it out but that was where I actually started my professional work. When I got back to Lagos, my very first job was a TV soap opera called 'Cross Roads' by Emeka Ossai that starred Kate Henshaw and some other big names in 2007. That was how my journey into film actually began.

What was growing up like?

I grew up basically with my mum. She was a single parent and she gave me a western upbringing. She brought me up to read educational books and movies. I read a lot of stories book and was also very artistic. As a child, I used to draw and paint as a kid but it wasn't like a passion. I used to draw comics with a friend when I was in secondary school but didn't wish to continue in it like a career. I studied Travel and Tourism and Hospitality Management. That was why I was in Ghana to finish my studies.

Did you stumble into acting or was it something you have always wanted to do?

I have always wanted to act ever since I was a child. I was about five years old or so when I watched Sound of Music and decided I would like to be one of the people who pretend to tell other people's stories. From an early age all through school, I knew acting was what I wanted to do. When I was a child I watched movies a lot. Even as an adult I am addicted to film.

Aside acting in TV series, which film gave you the breakthrough?

My very first feature film was 'Kajola'. I played a lead character, starring along Desmond Elliot. 'Kajola' was a very controversial movie because the producers made a science fiction film on a futuristic Lagos. Till today I am proud of that project because it was totally different. The movie was not something we normally do in this part of our industry. It made people to ask who the lead actress in the movie was. The movie I think that brought me to limelight was 'Two Brides and a Baby'. It was a film I starred along with Stella Damasus and Oc Ukeje and a host of others. I played a lead role in that film and won the Best of Nollywood Award for Best breakout performance in a leading role. I was nominated by Golden Icon Academy Movie Awards, GIAMA in Houston, Texas for that one as well.

Your Dad is a missionary. How does he feel seeing you act in romantic movies?

My dad in the beginning had issues with my career path. It was a struggle for a few years but now they are supportive of me and pray for me. I always say that I may act crazy roles in films, I may one day decide to play a completely notorious scandalous woman but it has to have some strong moral lesson at the back of it. I try as much as possible to keep that respectability. There are certain things I do in films that do not depict me as a person. I do them because it is based on the work. That is what I really need people to understand that the characters that I paly are not me at all.

Describe the real Keira?

I think I am a boring kind of person. This is because I like to read books and stay home to watch movies. So when I play certain roles that is just acting.
Are you saying that if your director asks to act a certain character like being half naked on the bed, you would not do it?
I would not do that. With all due respect to our film makers, we haven't figured out how to shoot love scenes tastefully in Nigeria and I will never shoot the kind of love scene you are talking about until we figure out how to make it classy and tasteful.
Which part of your body do you think is your most striking feature?
I think that would be my mid -riff. I used to be big but I'm not anymore. I started working on myself about a year and half ago. Even when I was big, my mid riff has always been flat. It makes me look good in clothes, so I concentrate on it a lot and work hard to keep it flat.
What is your style?
Actually, I don't have a particular kind of style. I am the kind of girl who can be all corporate, dress like Kim Kardiashian in a figure hugging clothes or completely go gypsy or bohemian in flowing skirts, big bangles and Afro wigs. So I really don't have a style but generally, I am jeans and t-shirt kind of girl.
What is your passion?
My acting profession is my passion. It is not a hobby like some people think but it's my nine-to-five job. It is like the bank CEO getting up to go and run his bank because if I don't get up to go and act a film, it's the same as if a banker did not go to the bank to open it for people to withdraw money. Do you know what life will be like without entertainment like film, or music? It means people will be committing suicide every week. Acting is my passion and my life.
What are the qualities you are looking for in a man?
People always start with the looks but I am more of an intellectual kind of person. So intelligence is a big plus for me. I love a smart man. I love a confident man whose confidence is not arrogance because a few men are confident but some usually border on arrogance and that is a turn-off. Obviously I am tall, so I will like a tall guy; we could start from six foot five inches.
You would not consider marrying a man shorter than you?
No way! But let me not say it like that because he might have all the qualities that I want in a man but he is short. All the same, I am an old fashioned kind of girl. I believe a man has to protect his woman and that should translate in his physical looks as well. For me, a man should always be bigger than his woman.
Has there been any scandal about you in the news that made you unhappy?
Funny enough, none at all unless you call getting insulted in the internet but that was a long time ago. They were making bad comparisons between me and Mercy Johnson. I felt bad about it back then. After a while it just blew over.
What are your favourite types of clothes for red carpet?
I don't have a particular type of clothes for red carpet. I just believe that they should be flattering on the body that will make you look beautiful and glamorous.
What is your best fashion item?
I think that would be my sunglasses. I have a pair of Cartiers I cannot do without right now. I also love Ray Ban sunglasses. I am not really big on brand names; if it looks good, I take it even if it does not have a name on it.
What kind fashion cannot you not be caught wearing?
I cannot be caught wearing anything fish net or anything sheer. I can wear a dress that has netting on the side that plays a little peek-a- boo but not completely sheer nude like Rihanna.