Crime News
Kidnappers Who Abducted Imo State University Professor & Doctor In Owerri Arrested In Lagos After Collecting N6Million Ransom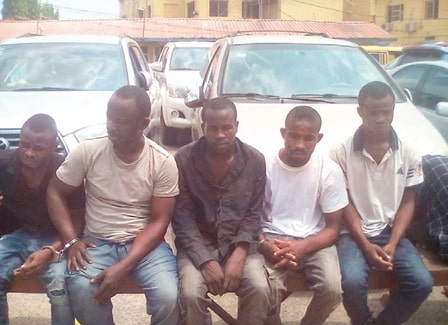 Kidnappers Who Abducted Imo State University Professor & Doctor In Owerri Arrested In Lagos After Collecting N6Million Ransom
5 suspected members of a kidnap gang have been arrested by the police in Lagos for allegedly kidnapping a professor at Imo State University (IMSU) and a doctor.

The suspects, Kenneth Chinedu; David Obiora alias Emperor, 21; Ogbuje Gift, 23; Ogu Obu, 31 and Lawrence Ndubuisi, 30 said to have kidnapped their victims in Owerri, Imo State and fled to Lagos, were paraded yesterday by Police Commissioner Imohimi Edgal.

It was gathered that the suspects, who were nabbed at their hideout in Igando, had collected N6,000,000 ransom for the two victims before releasing them from Igando.

According to Edgal, the command received information on September 21 that kidnappers, who abducted their victims from Owerri, were hiding in Igando, Lagos.
He said the informant disclosed that after collecting millions of naira as ransom, the kidnappers vanished with the Toyota 4runner Sports Utility Vehicle (SUV) and were regrouping in Igando where they planned to start picking on new targets.
On the strength of the information, Edgal said the Divisional Police Officer in Igando was directed to collaborate with operatives of the Federal Special Anti-Robbery Squad (FSARS), Ipakodo, to arrest the criminals.
"Consequently, Kenneth Chinedu was arrested and he led operatives to other gang members. Exhibits recovered include a Toyota Highlander registered as EKY744FIH, Toyota Sienna Bus- EPE326FH.

"During interrogation, the suspects confessed to the crime and admitted that they collected N6,000,000 ransom from their two previous victims- a lecturer at IMSU and a doctor whose Toyota 4runner they stole despite collecting money from his relations.

"They also confessed to series of robberies/car snatching which they carried out in Lagos and its environs.

They led operatives in the recovery of a stolen Toyota Highlander EKY744FH and one Toyota Sienna bus EPE326FH. According to them, they snatched these vehicles from their owners."
Edgal said the gang members mentioned others who are still at large, adding that efforts are on to apprehend them and recover their firearms still in the hands of the fleeing criminals.