Hot Gists
Kidnappers Of Aliko Dangote's Cousin Arrested While Collecting $40,000 Ransom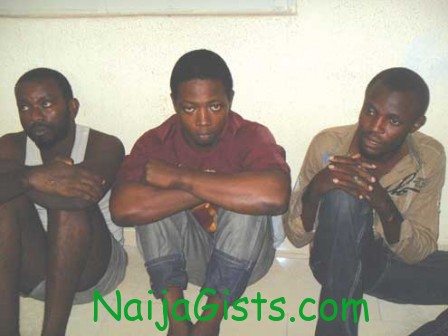 Sept 18, 2012 – Kidnappers Of Aliko Dangote's Cousin Arrested While Collecting $40,000 Ransom
A 3-man gang of kidnappers who kidnapped the cousin of business tycoon, Aliko Dangote have been arrested. naijagists.com
Dangote's cousin, Yahaya Aminu was kidnapped few weeks ago by some Kidnappers in a bid to extort money from the business mogul.
Below are the names of the arrested kidnappers:
Pius Ubaka Livinus
Kenechukwu Onyema
Segun Ayebe.
They were arrested while collecting the $40,000 ransom at Ajah area of Lagos State Nigeria.
We learnt Pius was the one who kidnapped an Indian man in 2010 and Onyema kidnapped a Dangote staff back in February of this year.
The suspected kidnappers were paraded today at Ikeja Police Command.
They were nabbed during a special Anti-Robbery Squad coordinated search for the gang members.