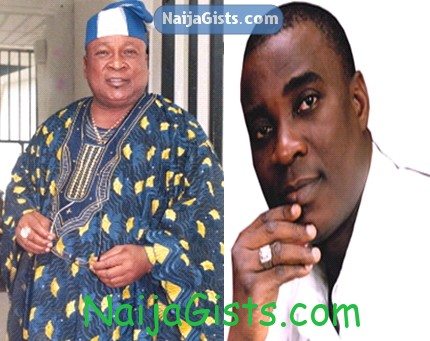 Dec 21st, 2012 – Kollington Ayinla Fights Wasiu Ayinde K1 Over Oga Fuji Leadership Title: "Who Made Him The Leader"
Weeks after an intense battle with Wasiu Pasuma Alabi, top fuji musician, King Wasiu Ayinde Kwam1 has found himself in a tougher war. naijagists.com
In this recent interview with City People magazine, Kollington Ayinla slams K1 over the claim that he is now the Oga Fuji (leader of all Fuji stars).
Interview excerpt below:
"Who made him leader? He can only become leader if Sikiru is no longer alive (of course, he is dead) and I am no longer around. That is if the other elders accept because there are still fuji musicians who are older than he is…
"Suddenly, he has now opened his mouth to say he is oga of all of us. Does he want to kill me or am I not older than him? How can you be Oga fuji over me when I am still alive and in music?" asked Kollington in the anger-laden interview.  The Kwara-born singer delved into history (not particularly prettily), asking where K1 was when he and Barrister were running the game in fuji music. Where was Wasiu when Barrister and I were reigning in fuji music? He was a parker (a band boy) with Barrister."
K1 Responds To Kollington Ayinla's Comment
Below is a quick response K1 sent across to his elder through his music manager, Percy Ademokun.
"People should mind their own business and stop using Wasiu's name to get undue recognition. K1 is doing his own thing and playing good music. If musicians either young or old want to sell their albums, they should not use the name of Wasiu to sell the album. Anyway, we are not surprised. Barrister is dead, so there is nobody Kollington will rival except Wasiu"
Make K1 sempe o Kebe n Kwara nah tough man ooooo.
For latest Naija celebrity gists and Nollywood news keep in touch with us at naijagists.com