Crime News
Lady Beats Okada Man To Coma Over Dirty 100 Naira Note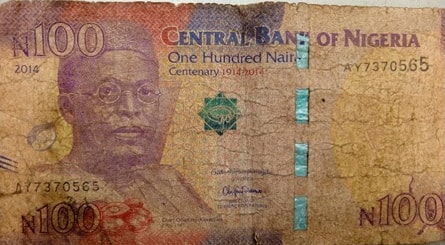 An argument between a commercial motorcyclist and his passenger over a dirty naira note turned bloody yesterday in Lagos as irate youths beat the cyclist to a state of coma.
The cyclist, Okon Akpan, according to the NAN had conveyed his passenger, Titilope Fatai, from Okokomaiko to Iyana Iba market, for a fee of N200.

Trouble however started when Fatai paid the cyclist with a N500 note but when Akpan gave his passenger her N300 balance, made up of N200 and N100 notes, the lady returned the N100 and requested for replacement on the grounds that it was "too dirty".

A heated argument soon ensued as the cyclist insisted he did not have a neater note to replace the one rejected by his passenger.

As Akpan tried to leave without reaching an accord, the lady slapped him and he in return, started beating her.

Unknown to the cyclist, the lady was popular among the street urchins in the area, who in turn, reacted by also beating Akpan to a state of unconsciousness, and thereafter dispersed.

His fellow commercial motorcyclists had to come to his rescue, after which they took him to an undisclosed hospital.