Edo State News
Lady Who Recorded Success Adegor Video Slams Her Parents For Refusing To Help Her After Nigerians Donated N5.5M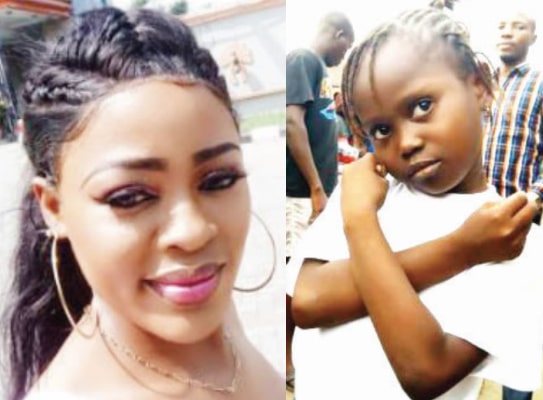 Lady Who Recorded Success Adegor's Video Slams Her Parents For Refusing To Help Her After Nigerians Donated Over 5 Million
I recorded the video for fun – Stephanie Idolor
Not many have heard of the 23-year-old graduate of Public Administration from the Auchi Polytechnic, Stephanie, who made the trending viral video for entertainment.

Stephanie said she was shocked to discover the attention little Success had received since the video went viral on social media, adding that she never foresaw the goodwill the video could bring for the Adegors.

"My mum sent me on an errand and on my way, I saw Success grumbling and angry. She was complaining bitterly that they (school) sent her away from school when they were supposed to flog her. So, I recorded the video just for entertainment and not to put it on social media to raise money for her. If you notice in the video, she was walking away from me and that was where I ended the video.
"Thereafter, I posted the video on my WhatsApp status and people started asking for the video because it is funny. I also uploaded it on my Instagram and Facebook accounts. It was from there that it went viral.

"When I posted it on my Instagram, people started commenting and one of my friends (Joy) said she was going to talk to Instablog9ja to upload it for us. I called her (the friend) again to find out if Instablog9ja would post it but she said she didn't know. I was even praying that they should post it.
"Few hours later when I checked, Instablog9ja had posted it but my friend was credited rather than me. I told her that she should have added my name so that the two of us would share the credit for the video. Nobody did that video for me. I did it myself. I was the one who posted it on my social media platform. No one should take glory for something I created," she said.
Stephanie, however, added that as the initiator of the video, she had not received any support from anyone. She also appealed to Nigerians to give her a job, adding that like Success, many other children in the area have no money to attend school and therefore, also deserve the sympathy and goodwill of Nigerians.
"I'm very happy but when they suspended the head teacher of the school, I felt so bad because I didn't do it to expose her or for anything like that. According to the head teacher, I taught Success what to say and, that is a 'big lie'. Success is very sharp and can say what happened. I even have eyewitnesses who were passing by when I made the video.
"I didn't teach her what to say. Although I felt bad when they suspended the head teacher but it wasn't really my fault. I didn't do the video to get anybody sacked or suspended. I did it just for fun. On the other hand, I feel happy because this little thing has gone viral and she has been receiving a lot of assistance and funds."
She, however, criticised Success' mother for allegedly hiding things from her since her daughter started getting famous.
"If you call Success' mum now, she will tell you that the Sapele LGA chairman has given me money and that people should not give me any money. She told me that the money in her account was N700,000, not knowing that the money in the account was more than N5.3m, which good-hearted Nigerians have given them.
"That is why I am angry with her. I didn't tell her I wanted to share the money 50/50 with her. She should have told me the truth. I don't really understand why she was hiding everything from me. She told me that she would give me N400,000 from the N700,000. I didn't do the video because of money but since money is coming out of it, I should be carried along, rather, she started hiding everything from me.
"My parents have asked me to forget about it. I even promised to help Success speak English and dress better. The local government chairman said if they don't want to give me money, I should forget about it but it is not supposed to be like that. They were not even sure of getting N100,000 all through the year but now that they are swimming in millions, they want to give me N400,000. I have decided to leave the money with them.
"The LG chairman has said I should summit my CV, which I have done. If I don't get a call from the local government, I will have nothing to show for my efforts. I believe my helper will come. I am a graduate. As we speak to you now, I don't have a dime on me. I think she's being greedy, but my parents have advised me to leave the money issue," she said.
Visit NaijaGists.com For More Breaking News & Entertainment Updates.