Crime News
Lagos Policemen Sleeping On Duty In Trouble As Rape Suspect Escapes From Custody In Surulere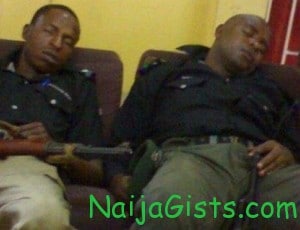 Illustration
October 14, 2017 – Lagos Policemen Sleeping On Duty In Trouble As Rape Suspect Escapes From Custody In Surulere
The mysterious disappearance of a rape suspect from the custody of Police in Surulere is a mystery Lagos State Police command is currently trying to solve.
The suspect, identified simply as Godswill allegedly raped one Iniobong Thompson in the Ojuelegba area of Lagos State on September 22, 2017.
Iniobong, 17, who two months ago came to Lagos to live with one of her relations allegedly raised the alarm which led to the arrest of Godswill.
The suspect was taken to Surulere Police Division tucked inside Area 'C' Police Command and he was detained.
The case was subsequently transferred to the Gender Section of the state police command, Ikeja, but the suspect was rejected on health grounds.
Godswill was therefore taken by the police to Randle General Hospital for treatment.
The suspect was brought back to the station in handcuffs and allegedly put behind the counter.
The complainants were shocked on October 4 during a visit to the station after they were told the suspect mysteriously escaped from custody.
We learnt the policemen on duty slept off and negligently forgot to lock the suspect up inside a cell.
The distraught complainants have since forwarded a petition to the Area 'C' Command, and the Commissioner of Police, Mr Imohmini Edgar, asking for punitive action against the policemen involved.
Responding, the spokesman of Lagos Police Command, Olarinde Famous-Cole, said the police are on the trail of the fleeing suspect, while the officers involved are currently facing disciplinary action.
He said:
" The suspect was arrested for alleged rape and in the course of investigation he fell ill. He was supposed to be taken to the Gender Section of the command but due to his ill-health, he was taken to a hospital for treatment.

'' He was brought back to the station in handcuffs from where he was said to have bolted. The officers involved are currently undergoing orderly room trial, while efforts are being made to re-arrest the suspect.''