Crime News
SARS Policeman Allegedly Hires Thug To Beat Up Ex-Wife Lover In Benin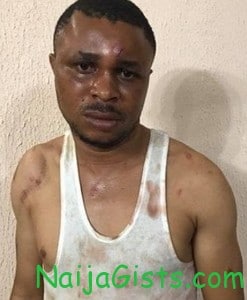 Oct 14, 2017 – Man Beaten For Sleeping With Policeman's Wife In Benin Petitions IGP
SARS Policeman Hires Thug To Beat Up Ex-Wife Lover In Benin, Victim Petitions Edo Police Commissioner
A SARS Police man in Benin city Edo state has come under fire for allegedly hiring thugs to beat up his ex-wife's new lover at a drinking joint in Benin city.
The suspect identified as Sergeant Nagbama Eboigbe aka Smally reportedly paid some thugs to attack the victim, Ese Idehen, at a bar on Muritala Mohammed Way in Benin city.
The hoodlums reportedly forced their victim to confess and recorded his video before locking him up in a car.
However, Smally's ex-wife said their marriage crashed 9 months ago.
Ese's lawyer Barrister Jefferson Uwughoren has petitioned Edo state Police Commissioner that his client was kidnapped and forced to confess to things he did not do.