Ekiti State News
Fayose Diverts N680M Ekiti Civil Servants Salaries & Pension Into Fixed Account Yielding N6M Monthly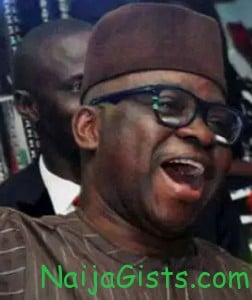 Oct 14, 2017 – Fayose Diverts N680Million Ekiti Civil Servants Salaries & Pension Into Fixed Deposit Account Yielding N6Million Interest Monthly – EFCC
The EFCC has finally unravelled the mystery behind the unpaid salaries of Ekiti State Civil servants under Governor Ayodele Fayose's government.
The controversial governor is now being probed by the anti-corruption agency for allegedly diverting over N680million meant to pay salaries and pensions of civil servants in the state for his own personal gain.
The whopping sum has been traced to a fixed deposit account which the EFCC claims is yielding N6million interest monthly for the governor.
The discoveries led to the arrest of Ekiti state finance commissioner and the General account by the EFCC.
The agency also accused the governor of using bailout funds for other purpose.
He reportedly awarded a N1.7billion contract to a Lebanese company who moved part of the money to allegedly purchase properties for the governor.
Fayose is not the only governor using bailout fund for personal use in Nigeria as most of the state governors were alleged to have either diverted or converted the relief funds to their own use while their workers battle abject poverty.
Here is what a top security source at the agency said:
It is high time to get rid of the immunity clause protecting these corrupt governors .
Why embezzle money meant for hardworking civil servants?. Na only you sabi chop?